The Longstreet Highroad Guide to the Tennessee Mountains
By Vernon and Cathy Summerlin. Here you will find the entire contents of the best-selling book about the Tennessee Mountains.
This web site, which also exists as a book, has more than 170,000 words, 51 maps, 23 sidebars, and numerous illustrations detailing the best natural areas, lodging, and restaurants of the Tennessee Mountains. There are two ways to find information: the expandable book map below (find the area you are interested in and click) and the Sherpa Search engine (above).
The book is one volume in the Longstreet Highroad Guides series of 19 books by Longstreet Press. Outdoor enthusiasts can use the Longstreet Highroad Guides series to plan excursions to other coastal areas including the Georgia Coast, the Florida Keys and Everglades, Chesapeake Bay, the Maine coast, the Washington and Oregon coast, and the California coast. The mountain series highlights Georgia, North Carolina, Tennessee, Virginia, Pennsylvania, New York, Vermont, New Hampshire, Washington Cascades, Oregon Cascades, Colorado, California, and Arizona. You may want to read book reviews about the series.
Mountain travelers—first-time visitors as well as seasoned locals—will find a wide range of information on this Web site.
Web site wear you out?
All of this content is available in dead trees (book) form for those who may want to carry it with them on the hiking trails, beaches, river campsites, or historic sites. Or just admire it on their coffee table. Published in 1999, the book is 340 pages long, has 51 maps, is printed 2-color and measures 7x9 inches. Includes 60 original drawings, photographs, appendices, and an index. ISBN 1-56352-475-9. $18.95. Read Book reviews. Buy the Book.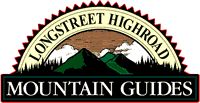 About the Authors
The Summerlins are award-winning coauthors of books about the outdoors and travel in the Southeast, including Traveling the Trace, Traveling the Southern Highlands, and Traveling Tennessee. Vernon is editor of Tennessee Angler Magazine, coauthor of The Compleat Tennessee Angler, and cohost of the nationally syndicated radio program Outdoors with Vern and Doug.
---
Contents
Front Matter