The Longstreet Highroad Guide to the California Sierra Nevada

By Mark Grossi. Foreword by The Wilderness Society. Now launched on the World Wide Web, here you will find the entire contents of the best-selling book about the California Sierra Nevada.
This Web site, which also exists as a book, has more than 170,000 words, 61 maps, 20 sidebars, numerous illustrations, and photographs covering the California Sierra Nevada. There are two ways to find information: the expandable book map below (find the area you are interested in and click) and the Sherpa Search search engine (above).
The book is one volume in the Longstreet Highroad Guides series of 19 books by Longstreet Press. Outdoor enthusiasts can use the Longstreet Highroad Guides series to plan excursions to other mountain states, including the Oregon Cascades, the Washington Cascades, Colorado, Arizona, Georgia, North Carolina, Virginia, Pennsylvania, New York, New Hampshire, Vermont, and Tennessee. The coastal series highlights the California coast, the Washington and Oregon coast, the Georgia Coast and Okefenokee, the Florida Keys and Everglades, the Chesapeake Bay, and the Maine coast. You may want to read book reviews about the series.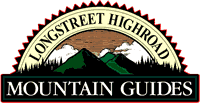 This site is for explorers looking to experience the grandeur of Lake Tahoe or merely the tranquility of sites off the beaten path will find a wealth of information in the Longstreet Highroad Guide to the California Sierra Nevada. It is the perfect reference work for first-time visitors as well as seasoned explorers. Whether you want to hike through Kings Canyon, fish in a beautiful river or mountain stream, camp in a quiet and remote wilderness, sight-see in world-famous Yosemite National Park, enjoy an easy day hike with spectacular wildflower views, or capture the magnificence of Mount Whitney on film, this book leads you to the best the mountains have to offer. This comprehensive guidebook brings together the natural history and features of the Sierra Nevada in a format that is easy to use and packed with detailed information.
Web site wear you out?
All of this content is available in dead trees (book) form for those who may want to carry it with them on the hiking trails, beaches, river campsites, or historic sites. Or just admire it on their coffee table. Published in 2000, the book is 352 pages long, has 61 maps, is printed 2-color and measures 7x9 inches. Includes 40 original drawings, photographs, appendices, and an index. ISBN 1-56352-592-5. $18.95. Book reviews. Buy the Book
About the Author
Mark Grossi is an award-winning journalist who lives in the San Joaquin Valley, west of Yosemite National Park and the heart of the Sierra Nevada. Grossi, who is a former Knight Science Journalism Fellow at Massachusetts Institute of Technology, covers the environment and natural resource issues for The Fresno Bee, Central California's largest daily newspaper.
---
Contents
Front Matter
---
Read and add comments about this page
---
Reader-Contributed Links to the California Sierra Nevada Book: