Other Activities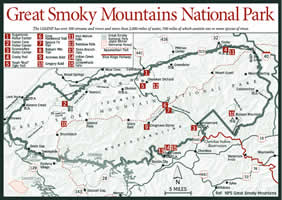 Horseback Riding
Equestrians have plenty of access to the park, and the trails are considered by many to be the best in the eastern U.S. Owners of horses should contact Park Headquarters at (423) 436-1200 for information on riding in the park. A free packet contains information on regulations, trails, and camping sites.
Rental horses are also available from private stables located within the park. Horses are rented by the hour or half-day, and the Park Service requires concessionaires to send guides with rental horses.
For more information: Cades Cove, phone (423) 448-6286; Smokemont, phone (704) 497-2373; and Deep Creek, phone (704) 497-7503. Others concessionaires in the park are McCarter's Riding Stable, on Newfound Gap Road near Park Headquarters, phone (423) 436-5354; and Smoky Mountains Riding Stable, 2 miles east of Gatlinburg on US 321, phone (423) 436-5634.
Bicycling
Bicycles are allowed on paved roads and in campgrounds. Few areas in the park offer good opportunities for bicycling, mainly because the hiking trails are off-limits, and most of the paved roads are very steep and narrow and carry heavy traffic.
To help accommodate cyclists, the park closes the 11-mile loop road traffic around Cades Cove to automobiles until 10 a.m. on Wednesdays and Saturdays from late May through mid-September. This allows bikers time to make a leisurely tour of the valley.
Cataloochee Valley offers additional opportunities for bicyclists.
For more information: Great Smoky Mountains National Park, 107 Park Headquarters Road, Gatlinburg, TN 37738. Phone (423) 436-1200.