Cataloochee Valley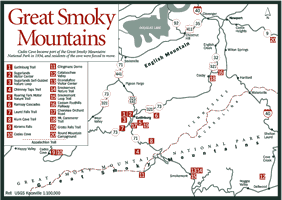 [Fig. 44(12)] Once the largest settlement in the Smokies, the areas known as Big Cataloochee and Little Cataloochee are located in the remote southeastern section of the North Carolina portion of the GSMNP. Settled in the 1830s, Big Cataloochee is an oval-shaped valley watered by Cataloochee, Rough Fork, and Pretty Hollow creeks and surrounded by towering peaks. Noland Mountain separates it from Little Cataloochee to the north.
Large tracts of land, including the land in Cataloochee, were granted to John Gray Blount, the brother of the Governor of the Southwest Territory, for services in lieu of cash. He, in turn, sold thousands of acres to Col. Robert Love, a Revolutionary War veteran and land speculator.
The first land entry in Cataloochee was 100 acres to Henry Caldwell in 1814. By the 1850s, Cataloochee was populated enough that adult children of the families living in the valley moved to Little Cataloochee to establish their own farmsteads. In 1900, the population was around 700 and most of the original log houses had been enlarged and weatherboarded. There were about 200 buildings scattered around the valley. Of these, less than a dozen remain.
In the early 1930s, Tom and Judy Alexander settled in Big Cataloochee to establish a tourist ranch with horseback riding, fishing, and hiking opportunities. At this time nearly 100 families lived in Cataloochee. By 1937 most of the families had moved out. The Alexanders stayed one more year before they, too, left, relocating their ranch to outside Maggie Valley, North Carolina.
Unlike Cades Cove, relatively few visitors to GSMNP discover Cataloochee, although it rewards visitors who meet the challenge of getting here with its peaceful beauty. When you arrive you'll find historic buildings, a shady campground, and a self-guiding auto tour.
Cataloochee Creek and its tributaries support a mixture of the largest rainbow and brown trout found in the valley. You can easily access the creek near the campground. Trails access other trout streams including Caldwell Fork; Palmer Creek, which has rainbows and brookies above 3,000 feet; Little Cataloochee Creek; and Rough Fork, which is near the Big Hemlock backcountry campsite (site # 40), a favorite camp of anglers seeking rainbow trout. No rationing is involved at this site.
Directions: To reach Cataloochee, exit I-40 at US 276 (Exit 20) and turn right onto Cove Creek Road after 0.2 mile. Follow Cove Creek Road as it becomes a gravel road for a portion of the 11-mile drive to Cataloochee.
Activities: Camping, hiking, wildlife viewing, bicycling, scenic driving, and trout fishing.
Facilities: Primitive campground with 27 sites and ranger station.
Dates: Campground open mid-Apr. though Oct. Backcountry campsites open year-round.
Fees: There is a charge for camping.
Closest town: Maggie Valley, North Carolina, 13 miles.
For more information: Great Smoky Mountains National Park, 107 Park Headquarters Road, Gatlinburg, TN 37738. Phone (423) 436-1200. Backcountry Reservations, 107 Park Headquarters Road, Gatlinburg, 37738. Phone (423) 436-1231.