Caverns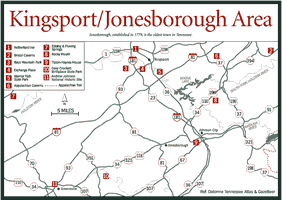 Appalachian Caverns
[Fig. 25(6)] Caverns in this area of Tennessee were formed by underground streams dissolving holes in the limestone formations. After a space in the rock appeared, water with dissolved minerals dripped from or ran over cavern surfaces. Over long periods of time, these dissolved minerals were deposited to produce a variety of formations. Butterfly onyx, helicitites (curved stalactite-like forms), anthodites (radiating clusters of acicular crystals), and other rare karst formations are found in Appalachian Caverns.
There is an hour-long 1-mile tour among rock formations of stalactites and stalagmites made of manganese, calcite, and limestone. The tour also goes through a large room 100 feet wide by 135 feet high that is 1,400 feet long.
In March, about 15,000 endangered gray bats (Myotis griescens) and hundreds of Myotis pipistrol and Virginia brown bats return to Appalachian Caverns. Bluegill, carp, catfish, and turtles inhabit the cave's stream called Linville Creek. The cave was explored during the 1800s and was inhabited by Native Americans beginning 15,000 years ago, judging by skeletons and artifacts found inside. A 4.5-acre underground lake and an expected 200 miles of the cavern system have yet to be explored.
Exploration continues, not only by the staff but also by those interested in spelunking. Special opportunities for those joining the Wild Tours, tours through less explored parts of the cave, include seeking uncharted rooms, rappelling, mud crawling, and discovering rock formations.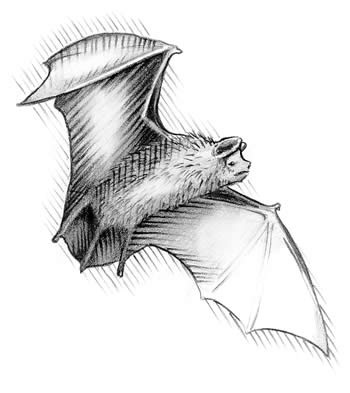 Directions: Blountville is southwest of Bristol and south of I-81 at Exit 69 on TN 37. Travel south of Blountville on TN 37 for about 1 mile, turn right (southwest) on Buncombe Road, go 1.5 miles, and turn left (south) on Cave Hill Road.
Activities: Cavern tour, picnicking, and spelunking.
Facilities: Picnic shelter, gift shop, and restrooms.
Dates: Open daily year-round except Thanksgiving, and Dec. 24 through Jan. 3.
Fees: There is a charge for admission.
Closest Town: Bristol, about 15 miles.
For more information: Appalachian Caverns, 420 Cave Hill Road, Blountville, TN 37617. Phone (423) 323-2337.
Bristol Caverns
[Fig. 25(2)] Bristol Caverns, off US 421, is 5 miles southeast of Bristol and 200 million years old. Local legend claims Indians used the caverns and the underground river through them as their attack and escape route. The cavern allowed the Indians to appear and vanish before the settlers' eyes.
A tour of the cavern goes along paved, lighted walkways that wind through the vaulted chambers along the river that carved Bristol Caverns. The 78-acre cave is filled with geological formations, a variety of stalactites and stalagmites ranging from tree-trunk size down to soda-straw size, columns reaching from floor to ceiling, and waterfalls made of rock. And a river still runs through it.
A new lighting system not only shows off the formations better but also is an aid to those taking pictures. Be sure to bring a flash for your camera.
Directions: Take US 421 southeast from Bristol for about 6 miles, turn left (east) on Bristol Caverns Highway (Highway 435) and follow the signs.
Activities: Cavern tour and picnicking.
Facilities: Gift shop, restrooms, and picnic tables.
Dates: Open year-round except Thanksgiving and Christmas. Hours are seasonal.
Fees: There is a charge for the tour.
Closest Town: Bristol, about 5 miles.
For more information: Bristol Caverns, PO Box 851, Bristol, TN 37621. Phone (423) 878-2011.