Mount Rogers National Recreation Area
[Fig. 34] High, wild, and lovely, Mount Rogers National Recreation Area (NRA) is unique in Virginia. Often called the "rooftop of Virginia," all of the state above 5,000 feet in elevation is in this area where the three counties of Grayson, Washington, and Smyth meet. As a result, this is a land of contrast and surprise unlike anything else in the state. Visitors compare it to a Canadian-type climate with its spruce-fir remnant forest. Others imagine a chunk of Montana Big Sky country transported to the Blue Ridge Mountain range when they experience the recreation area's high, timbered ridges that suddenly open to grassy alpine meadows in the thin, crisp air.
On a summer day it is possible to leave the humid lowlands in shorts and shirt and need jeans and jacket by the time the drive to the mile-high county is complete. In winter, it is equally possible to begin the trip from the valleys with windshield wipers working and need snow gaiters on the crest. Elevations, after all, range from 2,000 feet at Damascus and the New River to 5,729 feet on Mount Rogers, the highest point in Virginia.
At 150,000 acres, Mount Rogers National Recreation Area—a part of the Jefferson National Forest—is one of the largest public recreation areas in the East. The area was established in 1966 to take pressure off Shenandoah National Park to the north and Great Smoky Mountains National Park to the south, and it is located within a day's drive of almost one-third of the population of the United States. One of the attractions to the federal recreation area is its variety of forest communities. Mount Rogers National Recreation Area runs 60 miles from Damascus, near the North Carolina line, to the New River's passage through the Blue Ridge on the Wythe/Carroll county line. As valleys and remote coves climb to cool, moist mountain peaks, habitat for plants and animals varies widely.
The rocky, treeless meadows at the top—kept open and brush-free by controlled burning and by grazing cattle and feral ponies—contrast with the forested areas of northern hardwoods, red spruce, and Fraser fir. Emerging from deep woods to alpine meadows that allow panoramic, long-range views of 50 miles or more is a rare experience in the southern Appalachian range. Black bears, hunted almost to extinction in the area, are being restocked by the Virginia Department of Game and Inland Fisheries. Deer hunting is popular in fall and winter. Some of the state's most impressive bucks are taken in the high country. Hunters also walk the mountains to look for grouse and ever-increasing flocks of wild turkeys.
Nearly 160 different species of birds have been identified in the area. Certain species of endangered or threatened salamanders, such as the golden pygmy salamander (Desmognathus wrighti), have carved an isolated niche for themselves in the NRA.
More than 300 miles of trails lace Mount Rogers National Recreation Area. There are also two small lakes, more than 100 miles of tumbling trout streams (both stocked and native), a 66-mile horse trail, three federal wilderness areas, seven car campgrounds, and Virginia's highest automobile road which permits nonwalkers to savor the spectacular views from Whitetop Mountain.
At 5,540 feet, Whitetop is the second highest mountain in Virginia. ("Whitetop" is sometimes spelled as one word, as in U.S. Forest Service publications, or two words, as on state highway maps.) Since the forested summit of Mount Rogers has no view, the exposed bald on Whitetop—the northernmost bald in the southern Appalachians—is a popular place. On a clear day, the view from Whitetop includes not only the rounded and ancient mountains of the Blue Ridge range but also distant peaks progressively fading to lighter blues in the bordering states of North Carolina and Tennessee.
A well-stocked visitor center [Fig. 34] with exhibits and helpful staff is located at the entrance to the NRA on VA 16, about 7 miles south of Marion in east-central Smyth County. Also, information, brochures, and maps are available at two more U.S. Forest Service facilities—one located in a red caboose at the west end of Damascus in southeastern Washington County (junction of AT and Virginia Creeper Trail) and another at the old Green Cove Depot along the Virginia Creeper Trail. Green Cove is on VA 600 off US 58, about 15 miles east of Damascus.
Competing interests for use of the Mount Rogers area have caused emotions to boil in recent years. Groups with an interest in widened roads to accommodate large trucks, to provide more access for a particular sport (all-terrain-vehicles, for example), or to allow residential and commercial development are at loggerheads with conservationists, environmentalists, and other recreationalists who favor keeping things as they are. For the moment, a push to widen US 58 at the southwestern end to four lanes has been quashed.
Directions: The vast Mount Rogers NRA is freely accessible from all sides. US 58 runs east from Damascus through the southern end. From I-81, Exit 45, at Marion in central Smyth County, VA 16 leads south across the NRA, passing a beautiful, well-stocked information center after 7 miles. A 15-mile drive south of Wytheville on US 21, through Speedwell leads into the eastern portion of the recreation area. VA 94 provides access to the eastern end, which is bordered by the New River and New River Trail State Park. Other information stations are at Damascus and Green Cove on the southwestern end.
Activities: Scenic drives, camping, hiking, mountain biking, horseback riding, cross-country skiing, picnicking, swimming, trout fishing, seasonal hunting, interpretive programs.
Facilities: Visitor center, 7 campgrounds with no hookups (3 with showers and restrooms, 4 with water and pit toilets), picnic tables and group shelters, small lake with swimming beach, long and short hiking trails, long horse trail and horse campgrounds, interpretive trails, 3 wilderness areas, native and stocked trout streams, scenic byway.
Dates: The NRA is open year-round. Visitor center is open daily.
Fees: There is a charge at the developed campgrounds.
Closest town: Marion, in central Smyth County, is 7 miles north of the visitor center. Damascus, in southeastern Washington County, is at the southwestern tip of the NRA.
For more information: Mount Rogers National Recreation Area, Route 1, Box 303, Marion, VA 24354. Phone (800) 628-7202 or (540) 783-5196.
Damascus
[Fig. 34] The little town of Damascus, about 25 miles east of Bristol, has embraced its wealth of important trails with fervor. Damascus is located at the southwest edge of the highlands on the Tennessee border. The Appalachian Trail, which runs from Georgia to Maine, comes into the state from the south and runs down the town's Main Street before climbing into the Mount Rogers National Recreation Area. Here, in what is called "the friendliest town on the trail," AT hikers are invited to rest up before continuing their journey.
Damascus is also a stopover between the Great Valley of Virginia and the Blue Ridge Mountains for hikers heading east or west along the Virginia Creeper Trail. The Transcontinental Bicycle Route, which crosses the country from Oregon to Virginia, winds its way through Damascus on VA 58 and VA 91. The town honors trail users with a week-long festival on the city streets each spring (see Appendix C).
Mount Rogers Scenic Byway
[Fig. 34] In 1988, the U.S. Forest Service designated two connected stretches of highway as the Mount Rogers Scenic Byway. One section of the byway is US 58 between Damascus (southeastern Washington County) and Volney (southwestern Grayson County). The other is VA 603 between Troutdale (northwestern Grayson County) and Konnarock (southeastern Washington County). The two stretches form a Y and total 45.7 miles. By adding a 7-mile stretch of VA 16 connecting the top of the Y between Volney and Troutdale, a loop can be made, totaling 52.7 miles, beginning at Damascus, passing through Konnarock, and looping back to Konnarock.
Starting the journey from Damascus, drive east on US 58 for 32.5 miles to Volney. US 58 is the major access road for Grayson Highlands State Park and is the easiest way to access the high country of Mount Rogers NRA. Because of its curves and winding character, it's not suitable for vehicles longer than 35 feet. Check the odometer or set the car's trip meter to keep track of distances.
Damascus is interesting as a town that caters to hikers on the Appalachian Trail and the Virginia Creeper Trail which pass through it. Visitors pass Virginia Creeper trailheads at mile .9 (rustic railroad trestle) and mile 3.1 (Straight Branch). Beartree Campground is at mile 6.8. At mile 7 is lovely Whitetop Laurel Gorge, where a trail leads to a wildlife watching area.
At mile 16.5, US 58 passes the southwestern slopes of Whitetop Mountain, the second highest peak in Virginia (5,540 feet), and at mile 17.4, the byway passes a junction with VA 600. Check the odometer if you take a side trip so you can refigure the mileage when you return to the scenic byway. VA 600 goes north to Whitetop Mountain and Elk Garden Gap (4,420 feet) where you can park and take the AT east (round trip of 9 miles) to the top of Mount Rogers.
Between the scenic byway on US 58 and Elk Garden Gap, VA 89 goes left off the west side of VA 600. It then climbs about 3 miles nearly to the summit of Whitetop, making it the highest automobile road in the state. Returning to US 58 to continue the scenic drive, go east for 1.5 miles and cross Helton Creek (mile 18.9 of the byway), a clear mountain stream where native trout fishing is allowed. At mile 21.3 is Mount Rogers School. Typical of schools earlier in the century, it's one of the few remaining that teaches grades K through 12 in one building. It has the smallest high school enrollment in Virginia.
The byway passes the entrance to Grayson Highlands State Park at mile 24.9 before reaching Volney at mile 32.5. Drive 7 miles north to Troutdale and head west on VA 603 for the second stretch. At 1.9 miles is Fox Creek Falls with several small cascades and excellent trout fishing. Children (and adults) may enjoy searching among the rocks of Fox Creek for salamanders, crayfish, bugs, and other stream life.
At mile 2.2, the byway enters Fairwood Valley with its pastures, apple trees, and abundance of wildflowers. Many hiking and riding trails cross this area. At mile 2.8 is a horse livery with seasonal rentals for rides into the high country.
The Appalachian Trail crosses at mile 4.1. Grindstone Campground (and Whispering Waters Nature Trail) is at mile 6.1. A spur to the popular Mount Rogers Trail up Elk Ridge leads southeast out of the campground. At mile 12.3 is Konnarock. Like Troutdale, the quiet village was once a busy logging town. At mile 13.2, VA 603 joins US 58 to finish the trip.
Recreation and Picnic Areas in Mount Rogers
Beartree Recreation Area. [Fig. 34(12)]
Directions: Located about 7 miles east of Damascus off VA 58. Go north on FR 837 for 1.5 miles to group campground or 3.8 miles to family campground.
Facilities: 80 campsites, flush toilets, warm showers, dump station, children's playground, 14-acre stocked fishing lake (no gasoline motors, licenses required), swimming beach, bathhouse, hiking trails, mountain biking trails. Group campsites and picnic shelter (reservations required).
Dates: Open mid-Mar.—Dec. 1. Interpretive programs on summer weekends Memorial Day—Labor Day.
Fees: This is a fee area.
For more information: For reservations phone (800) 280-CAMP.
Comers Rock Campground/Picnic Area. [Fig. 34(6)]
Directions: Located on FR 57, which connects to US 21 about 5 miles south of Speedwell. From US 21, go 3.5 miles west on FR 57.
Facilities: 10 campsites on ridge, several picnic sites, small group picnic shelter made of stone during CCC days, drinking water, vault toilets. Iron Mountain Trail runs through campground. Other trails give access to Little Dry Run Wilderness. Observation platform atop Comers Rock about .5 mile to west. 5-acre Hale Lake, stocked with trout in season, is 2 miles west.
Fees: There is a fee for camping or picnicking.
Dates: Open year-round.
Grindstone Campground. [Fig. 34(13)]
Directions: Located on VA 603, about halfway between Troutdale and Konnarock.
Facilities: 100 campsites, flush toilets, warm showers, drinking water, dump station, children's playground.
Dates: Open May—Nov. Interpretive programs on summer weekends Memorial Day—Labor Day.
For more information: Reserve some sites by calling (800) 280-CAMP. The rest are first come, first served.
Hurricane Campground. [Fig. 34(11)]
Directions: Located 2 miles off VA 16, about halfway between Sugar Grove and Troutdale. Go west on VA 640 for 2 miles. Turn left on FR 84 and go .5 mile. Gravel road is too steep for some large vehicles.
Facilities: 29 campsites spread beneath trees along creek, flush toilets, warm showers, drinking water, large grassy field for games, excellent trout fishing in Hurricane and Comers creeks in spring and early summer.
Dates: Open Mar.—Oct.
Fees: This is a fee area.
New River Campground/Picnic Area. [Fig. 34(4)]
Directions: Located off VA 602 near Byllesby Dam, within a few hundred feet of New River and New River Trail State Park. From Ivanhoe, take VA 94 about 5.5 miles and look for Byllesby Dam sign and VA 602 on left.
Facilities: 16 campsites, picnic tables, picnic shelter, drinking water, vault toilets. More solitude than better-known areas of Mount Rogers NRA. River access for hikers, bikers, canoeists, inner-tubers.
Fees: This is a fee area.
Raccoon Branch Campground. [Fig. 34(8)]
Directions: Located beside VA 16 about 2.3 miles south of Sugar Grove (11 miles south of I-81 at Marion).
Facilities: 20 paved campsites, flush toilets in summer (no showers), vault toilets in winter, drinking water, hiking, mountain biking, fishing. Virginia Highlands Horse Trail passes nearby. Dickey's Knob offers beautiful views of Rye Valley and Sugar Grove.
Fees: This is a fee area.
Raven Cliff Campground/Picnic Area.[Fig. 34(3)]
Directions: Located just off VA 619, 2 miles east of Cripple Creek community and 6 miles east of Speedwell and US 21.
Facilities: 20 campsites and walk-in tent sites beside Cripple Creek. Picnic sites, group picnic shelter for 75 people (by reservation). Large grassy area for games, magnificent cliffs, historic iron furnace, excellent fishing for trout and smallmouth bass.
Dates: Open year-round.
Fees: This is a fee area.
The Trails of Mount Rogers NRA
[Fig. 34] Avid hikers would be hard put to find a better place to hike than Mount Rogers National Recreation Area. Only Shenandoah National Park in Virginia's northern Blue Ridge can compare. Over 350 miles of trails offer endless options for exploring the various forest communities of the NRA. Four fascinating long trails, each with its own character, and a network of shorter trails blanket the area.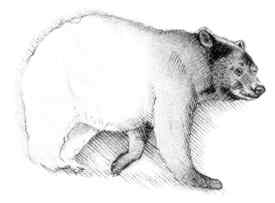 Long trails include a 64-mile stretch of the Georgia-to-Maine Appalachian Trail (AT), 17 miles of the Virginia Creeper Trail, the 50-mile Iron Mountain Trail, and the 66-mile Virginia Highlands Horse Trail. The Virginia Creeper Trail is a 33.4-mile gradual ascent along an old railroad grade between Abingdon and the North Carolina line east of Damascus and Green Cove. Several connections with the AT make a variety of loop hikes possible. (See Virginia Creeper Trail, and Appalachian Trail.)
The orange diamond-blazed Virginia Highlands Horse Trail extends from Elk Garden east to VA 94 near the New River. Equestrians are also allowed to use all but a few of the other Mount Rogers trails (which are clearly signed). Other prominent trails for horses are Iron Mountain, New River, and Virginia Creeper. The major exception is the AT, which is reserved for hikers.
High elevations, heavy snows, and gentle grades on some trails make Mount Rogers NRA one of the state's best destinations for cross-country skiers. While there are no designated snow trails, many miles of primitive roads and hiking trails provide excellent opportunities to enjoy the quiet of a winter snowfall.
Mountain bikers flock to Mount Rogers for the variety of terrain. The Virginia Creeper Trail, with its long, gentle downhill grade between Whitetop Station and Damascus, is many a biker's idea of heaven. Rental bikes are available from local outfitters (see Appendix D). NRA staff can help visitors plan their hikes according to individual preferences and abilities. Trails lead through high mountain meadows, into boreal forests reminiscent of Canada, through canopies of rhododendron, along rushing streams, and to overlooks with grand views. There are a variety of publications available to help identify flora and fauna of the fields and forests.
Crowded conditions during peak seasons may occur at Beartree Recreation Area and on the Virginia Creeper Trail, the AT, the Mount Rogers Trail, and Wilburn Ridge. Trails are generally well maintained and blazed. Some may be harder to follow than others. A detailed topo map and compass are always a good idea. Another option for exploring the high country is a covered wagon ride into the crest zone. Mount Rogers High Country Outdoor Center at Troutdale can arrange day trips, overnight covered wagon treks, and overnight horse trips with pack mules. For more information call (540) 677-3900.
Here's a sampling of trails in the Mount Rogers NRA (wilderness trails in next section), from west to east. For those in campgrounds, see section on recreation areas for directions.
Rushing Waters Circuit Trail. [Fig. 34(16)] This 15.75-mile loop combines portions of the Virginia Creeper, AT, and trails on Iron Mountain. The trail begins along the tumbling, clear waters of Whitetop-Laurel Creek and climbs to the crest of Iron Mountain for panoramic views of Whitetop Mountain and Mount Rogers. Foot travel only on AT; hikers, horseback riders, and mountain bikers allowed on Virginia Creeper and Iron Mountain trails.
To start, as you face the trail from the parking lot, turn left and hike toward Damascus on the Virginia Creeper (downstream). At mile 4.2, turn right onto blue-blazed trail to reach the AT. At mile 4.3, turn left on AT. Cross US 58 at mile 6.3 and at mile 6.4, turn right onto Feathercamp Trail and follow blue blazes. At mile 8.6, turn right on Iron Mountain Trail (yellow blazes). Sandy Flats Shelter is at mile 8.9. At mile 10.7 (Shaw Gap), turn right on Beartree Gap Trail. Bear right at mile 10.8 and continue down Beartree Gap Trail. Cross Beartree Campground Road at mile 13.2. Turn right at mile 13.5 and cross Beartree Lake Dam. Turn right just past dam, and at mile 13.7, cross US 58. At mile 13.9, turn left on AT and return to parking area.
Directions: From Damascus, take US 58 east 10 miles. Turn right on VA 728 and follow to Creek Junction Parking Lot. Note: VA 728 is narrow, steep, and possibly too difficult for larger vehicles.
Trail: 15.75-mile loop ascending Iron Mountain.
Elevation: 2,300 feet to 3,800 feet on Iron Mountain Trail west of Shaw Gap.
Degree of difficulty: Moderate, with strenuous section.
Surface and blaze: Natural forest floor. AT, white blaze; Iron Mountain Trail, yellow blaze; Feathercamp and Beartree Gap trails, blue blaze.
Hurricane Knob Nature Trail. [Fig. 34(10)] This scenic loop to Hurricane Knob begins near campsite #5 at Hurricane Campground. It runs along Hurricane Creek, a stocked trout stream, for about .5 mile, crossing two wooden bridges. After leaving the creek, the trail ascends to Hurricane Knob and into a beautiful forested area before returning back down to the campground.
Trail: 1.14-mile loop to Hurricane Knob.
Elevation: 2,800 feet to 3,200 feet.
Degree of difficulty: Easy to moderate.
Dickey Knob Trail. [Fig. 34(9)] Dickey Knob Trail is at Raccoon Branch Campground in the central section of Iron Mountain off VA 16. The trailhead is near campsite #4 at the confluence of Dickey Creek (a stocked trout stream) and Raccoon Branch. Go right for the Dickey Knob Trail after crossing bridge (or left for 6.6-mile round trip on Raccoon Branch Trail). Several wooden footbridges provide creek crossings on this 4.8-mile (round-trip) climb up a narrow path to a spectacular cliff view of Rye Valley, Sugar Grove, and beyond. The trail is not blazed but is easy to follow. Mountain bikes are allowed.
Trail: 4.8-mile (round-trip) climb up Dickey Knob.
Elevation: 2,880 feet to 3,649 feet.
Degree of difficulty: Moderate to difficult.
Hale Lake Trail. [Fig. 34(7)] This short loop trail (.58 mile) skirts around picturesque Hale Lake. Located just inside Grayson County at the corners of Smyth and Wythe counties, the lake is a popular fishing spot toward the eastern end of Iron Mountain. The easy, lightly used trail goes in and out of the woods offering several good views. It's unblazed but easy to follow. Only foot travel is allowed.
Directions: From Speedwell in southwestern Wythe County, go 4 miles south on US 21. Turn right on FR 57 (can be muddy at times), drive 6 miles, and follow signs. Lake is on right.
Trail: .58-mile loop around Hale Lake.
Elevation: 3,300 feet to 3,350 feet.
Degree of difficulty: Easy.
Henley Hollow Trail. [Fig. 34(3)] This lightly used trail just east of Dry Run Wilderness and US 21 combines solitude with beautiful scenery. The 3.16-mile path follows a creek up into Henley Hollow, passing several small waterfalls. It emerges at a gap at FR 787 on Horse Heaven Mountain. Foot, bicycle, and horse travel allowed.
Directions: From Speedwell, in southwestern Wythe County, go 2 miles south on US 21. Trailhead is at parking area on left (east side).
Trail: 3.16 mile (one-way) climb up Henley Hollow.
Elevation: 2,485 feet to 3,800 feet.
Degree of difficulty: Moderate.
Lewis Fork Wilderness
[Fig. 34(14)] With Virginia's highest mountain at its heart, 5,730-acre Lewis Fork Wilderness is visited by multitudes of outdoor lovers who want to experience the alpine altitude, smell the fragrant spruce-fir forest, or spend a night under the boughs of these ragged-looking evergreens. Lewis Fork Wilderness straddles the Smyth/Grayson county line northwest of Grayson Highlands State Park. Elevations range from 3,280 feet to 5,729 feet atop Mount Rogers.
The wilderness contains or is intersected by several important trails—the Appalachian Trail (AT), the Virginia Highlands Horse Trail, the Mount Rogers Trail, and the Mount Rogers Spur Trail. Several hikes to the summit of Mount Rogers are possible, with all trails connecting to the AT and then the Spur Trail. These trails provide access to the wilderness at three places: from VA 600 at Elk Garden Gap on the western border (AT and Horse Trail), from the state park (AT and Horse Trail), and from VA 603 on the northern border (AT and Mount Rogers Trail).
Expect to have company on these trails during summer and fall. Several less-traveled paths (but not to the summit) are available for those who desire the solitude normally associated with wilderness. One of these is the 3-mile (one-way) blue-blazed Grassy Branch Trail. This shady, easy hike uses the contours of the northwest flank of Mount Rogers. It connects VA 603 south of Grindstone Campground with VA 600 north of Elk Garden Gap. There are several stream crossings.
Two more lightly used trails are the 3.1-mile (one-way) Helton Creek Trail and the 2.5-mile (one-way) Sugar Maple Trail on the south side of the wilderness. The moderately difficult blue-blazed Sugar Maple Trail, which passes through pastures, wet forests, and meadows, can be combined with the more difficult but picturesque Helton Creek Trail for a circuit. For those who enjoy wildflowers, these trails are a good place to carry a guidebook. The trailhead is on County Road 783, off US 58, 19 miles east of Damascus.
Forest Communities of Lewis Fork. The sheer variety of forest communities in Lewis Fork fascinates nature lovers. In addition to the oaks and hickories that dominate most eastern deciduous woodlands, there are several other forest types. The rich, moist soil of deep coves supports dark forests of hemlock, rhododendron, red and sugar maples, white basswood, tulip poplar, and beech. On the upper slopes are northern hardwoods such as yellow birch, sugar maple, northern red oak, American beech, and striped maple. The brilliant fall color of Mount Rogers's western slopes comes from an abundance of red and sugar maples.
When first-time visitors see the alpine meadows of Wilburn Ridge between the wilderness and Grayson (see Grayson Highlands State Park), it makes a lasting impression. And those who make it to the summit never forget the boreal forest of red spruce, Fraser fir, and yellow birch with its rare community of northern wildlife, birds, and plants.
For more on the habitat associated with boreal forests, see Laurel Fork. For more on Appalachian cove forests, see Little Dry Run Wilderness of Mount Rogers, Ramseys Draft Wilderness, and Rich Hole Wilderness.
Mount Rogers Trail. [Fig. 34] The Mount Rogers National Recreation Trail is a scenic hike from Fairwood Valley up the northern slope of Mount Rogers. Combined with the Appalachian Trail and a spur trail, the 6.2-mile one-way hike to the summit of Mount Rogers makes a nice overnight trip.
The trail first ascends Mount Rogers and runs southwest along Elk Ridge. After 4 miles, the Mount Rogers Trail crosses the AT and dead-ends on the Virginia Highlands Horse Trail on the northwestern side of the Mount Rogers peak.
To reach the peak, turn left (southeast) on the white-blazed AT. (To the right, the AT descends about 2 miles to a parking lot at Elk Garden Gap on VA 200.) After turning left, follow the AT for 1.7 miles as it circles the summit on the southern side. Then go left on the Mount Rogers Spur Trail to the 5,729-foot peak. (For a shorter climb to the summit, start from the VA 600 parking area at Elk Garden Gap and follow the AT about 4 miles east, then .5 mile to the summit on the Spur Trail.)
The trailhead is .4 mile east of Grindstone Campground on VA 603 (6 miles west of Troutdale). The trail can also be accessed by a spur from the campground. Although the trail leads immediately into wilderness, don't be surprised to find other hikers along this popular path. Climbing the state's tallest mountain has a certain allure.
Trail: 4-mile (one-way) climb up Elk Ridge to the AT on the northwest flank of Mount Rogers. Combines with 1.7-mile section of AT and .5-mile spur to peak for 6.2-mile (one-way) hike.
Elevation: 3,720 feet to 5,120 feet at AT connection (or 5,729 feet at summit).
Degree of difficulty: Moderate to difficult.
Surface and blaze: Natural forest floor. Blue blaze. (AT is white blazed.)
Little Dry Run Wilderness
[Fig. 34(2)] Little Dry Run Wilderness is a small, 2,858-acre tract of the Iron Mountains located on the lightly used east end of Mount Rogers NRA. It's in the southwestern corner of Wythe County, with US 21 defining its eastern boundary.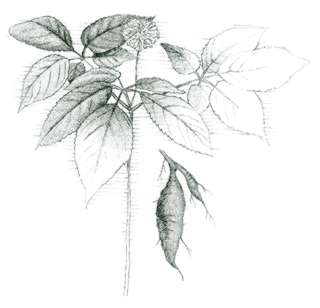 Elevations range from 2,440 feet along Little Dry Run at the northeast boundary to 3,614 feet near the center. The area has a number of small ridges with oak-hickory forests, as well as drainages with Appalachian cove hardwoods such as white basswood, tulip poplar, sugar maple, white ash, and Eastern hemlock. This area of the Iron Mountains is one of the rare places where round-leaf birch (Betula uber) is found. Nesting birds such as the wood thrush, summer tanager, red-eyed vireo, and ovenbird seek out the dense cover of understory trees such as Eastern redbud, Fraser magnolia, witch-hazel, and mountain maple.
In early spring, look for the low-growing, delicate wood anemone (Anemone quinquefolia) in the coves. The slender stalks of the little plants tremble in the wind, explaining why they are sometimes called wind flowers. Other wildflowers typical of Appalachian cove forests include mayapple (Podophyllum peltatum), large-flowered trillium (Trillium grandiflorum), red trillium (Trillium erectum), foamflower (Tiarella cordifolia), solomon's seal (Polygonatum), and false solomon's seal (Smilacina racemosa). Wildlife is diverse and abundant, and Little Dry Run is a native trout stream. The Little Dry Run Trail is the single path leading into the wilderness. The 3.9-mile path (one-way) connects Comers Rock Campground (on FR 57, 2 miles west of US 21) with US 21 on the east (trailhead on US 21 is 2 miles south of Speedwell). By starting at the campground, you'll be hiking downhill instead of climbing.
After leaving the campground, the trail crosses the Virginia Highlands Horse Trail which skirts the entire western and southern boundary. After the crossing, it heads down Little Dry Run and is sometimes hard to follow. If you stay on the creek, however, you'll come back onto the trail.
---
Read and add comments about this page
---
Reader-Contributed Links to the Virginia Mountains Book: