Grayson Highlands State Park
[Fig. 32(33), Fig. 33, Fig. 34(17)] Many people discover Grayson Highlands State Park by accident. After all, it's a back door to neighboring Mount Rogers National Recreation Area (NRA) and provides one of the easiest access points for a hike to Virginia's highest peak in the NRA to the north.
The road into Grayson takes hikers to a parking lot at Massie Gap that's 4,200 feet above sea level—a good running start at the 5,729-foot peak of Mount Rogers. But this windswept, often fog-shrouded piece of the Blue Ridge Highlands is far more than just an entrance to the federal recreation area.
The 4,935-acre Grayson Highlands State Park showcases the natural beauty of waterfalls, spruce-fir forests, igneous rock outcroppings, native trout streams, rugged mountains, and high alpine meadows with panoramic vistas of valleys below. A community of hardy wildflowers, shrubs, insects, birds, amphibians, and mammals that can withstand the harsh conditions of the open highlands have adapted to life in the alpine meadows.
As beautiful as the highlands of Grayson are, the landscape's original beauty has been altered. At one time, every fourth tree in the mountains was a chestnut, but blight killed all the massive chestnut trees in the early 1900s. After the blight, the mighty trees' naked and deathly gray skeletons stood 120 feet high, anchored by a trunk 10 feet in diameter, until loggers hauled out every available tree for its valuable, decay-resistant wood. About the same time, logging and fires decimated the virgin stands of other forest species. They, too, had been untouched by ax or saw and were of impressive size and variety.
It took only 12 years for the logging companies to clear the highest elevations of magnificent virgin red spruce, hemlock, and Fraser fir. At Massie Gap [Fig. 33(7)] in Grayson Highlands State Park, 1 acre of giant red spruce trees produced an impressive yield of 100,000 board feet of lumber—enough to build 30 average-size houses.
Foresters say that trees in the Grayson Highlands area today may be no more than one-third the size of those in the original virgin forests. But trees (with the exception of American chestnuts, still beset by blight) renew themselves. They come back in time. After decades of protection, the forests of Grayson Highlands are striking in both size and diversity. If not disturbed, eventually the park will support another tall evergreen forest. However, the severe climate, strong winds, and loss of soil following logging operations make for a slow recovery.
Because of extreme changes in elevation (from 3,698 feet at the park entrance to 5,089 feet at the feet of Little Pinnacle), the predominant forests in Grayson Highlands State Park change from northern hardwood (including yellow birch, sugar maple, American mountain-ash, American beech, and northern red oak) to spruce and fir. From a distance, Mount Rogers stands out not just for its height but also because it has a dark cap. The color is traceable to the dark green of the spruce-fir forest, a northern forest community that grows only at high elevations this far south. Mount Rogers and neighboring Whitetop Mountain are visible from several park trails. Whitetop is so named because, even after valley snows melt, the 5,540-foot-tall bald peak is still visibly white. On a clear day, the Blue Ridge Parkway, a federal mountain highway, is visible some 70 miles to the south. The parkway follows the backbone of the Blue Ridge range through Virginia and North Carolina (see Blue Ridge Parkway).
Grayson Highlands State Park is the only park in Virginia to provide a special area for visitors to bring and stable their own horses. The area is also popular with winter campers, cross-country skiers, trout anglers, deer and turkey hunters, and scientists who come to examine the unusual high-mountain bogs of Grayson.
The picnic area is next to a rebuilt homestead site, complete with two log cabins, a springhouse, and a cane mill. Like other mountains in the Blue Ridge range, the peaks of Grayson Highlands are rounded, not sharp—the result of eons of wear by wind, rain, and melting snow. The high peaks in this area, however, are composed of rhyolite, a volcanic rock almost as hard as granite. That is why they eroded slower than surrounding mountains and why they remain today the highest cluster of peaks in Virginia.
Directions: Park is located in western Grayson County, a few miles from North Carolina border. From I-81 at Abingdon, take Exit 19. Go east on US 58 about 32 miles to park entrance. Or from I-81 at Marion, take Exit 45. Go south on VA 16 about 21 miles to Volney. Then follow US 58 about 8 miles west to park entrance.
Activities: Camping, hiking (including guided hikes), horseback riding, mountain biking, interpretive programs, seasonal hunting and fishing.
Facilities: Fishing, 9 hiking trails, 4 mountain biking trails, interpretive trail, visitor center, craft shop, camp store, amphitheater. Picnic area with drinking water, grills, restrooms, reservable shelters. Camping: 73 sites, 40 with electric and water hookups, and two bathhouses. For horses and riders: 2 miles of bridle paths, 67 horse stalls (38 covered), 24 campsites, bathhouse and hot showers, dump station.
Dates: Open daily for day use year-round. Trails close at sundown. Stable and campground open Mar.—Nov. Visitor center, interpretive programs, camp store open generally Memorial Day—Labor Day.
Fees: There is a charge for parking, camping, and stables.
Closest town: Volney is 8 miles east. Damascus is 22 miles west.
For more information: Grayson Highlands State Park, 829 Grayson Highland Lane, Mouth of Wilson, VA 24363. Phone (540) 579-7092. Information brochures: phone (800) 786-1712.
Massie Gap
[Fig. 33(7)] Logs from the dense forest of virgin spruce and fir trees that once covered Massie Gap were cut and transported by railroad north over Pine Mountain to a sawmill at Fairwood. The old railroad grade now provides parts of several hiking trails including the Rhododendron Trail and the Cabin Creek Trail.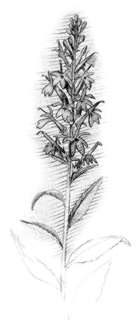 After the trees were removed, sunlight bathed a forest floor that had existed in darkness. Layers of organic material became tinder-dry. When lightning or sparks from the log trains ignited the material, it would smolder for weeks, killing off vegetation and seeds that might survive a quicker fire. With no vegetation to hold it, rich soil that had built up over the eons eroded away. After complete devastation, hardy plants such as fireweed (Epilobium augustifolium) and fire cherry or pin cherry (Prunus pensylvanica) took hold. As new soil built up gradually, grasses were able to survive and provide pasture for cattle. Scattered red spruces have also returned.
Open balds such as this one—and the one atop the peak of Whitetop visible to the west—remain for a number of reasons. First, soil buildup is painstakingly slow. Second, occasional fires—and the grazing ponies at Massie Gap—keep the balds open. And third, wind, cold temperatures, and shrouds of acid-laced fog make the summits the last places to recover from deforestation.
Arrowheads and pieces of stone tools left by Indian tribes have been discovered at Massie Gap. Native Americans perhaps used the area for seasonal hunting grounds. Besides the abundant wildlife were such bonuses as spring water and the igneous rock rhyolite, a material that holds a sharp edge and makes superior tools and weapons.
The parking lot at Massie Gap is the starting point for many hikes. Trails that begin here include Big Pinnacle [Fig. 33(8)], Cabin Creek [Fig. 33(15)], and Rhododendron [Fig. 33(5)]. The blue-blazed Rhododendron Trail provides connections with the Virginia Highlands Horse Trail [Fig. 33(1)], the Appalachian Trail, and Mount Rogers National Recreation Area to the north.
The Trails of Grayson Highlands
The nine trails of Grayson Highlands lead to such features as overlooks, waterfalls, mountain meadows, and log cabins. Life of early settlers and high-altitude flora and fauna are two themes. The trails are easy to moderate in difficulty. None is more than 2 miles in length. Small shelters provide protection from sudden storms.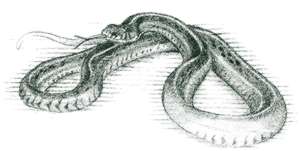 Lower trails such as Wilson Creek and Rock House Ridge are good alternatives when fog rolls in to obscure upper trails. Woodland wildflowers such as pink lady slipper (Cypripedium acaule), native lily-of-the-valley (Convallaria montana), jack-in-the-pulpit (Arisaema triphyllum), painted trillium (Trillium undulatum), and umbrella plant (Peltiphyllum) grow along the trails. These flowers remain because hikers have practiced restraint and left them for others to enjoy.
More than 2 miles of orange-blazed horse trails wander through the park. An excellent base camp for equestrians on the Virginia Highlands Horse Trail is available at Grayson, with a stable and adjacent campground on Haw Orchard Mountain.
Mountain biking is allowed in the Wilson Creek drainage in the northeastern and eastern sections of the park. Bikers may use the horse trail from Massie Gap to the campground, the Seed Orchard Road, the old Upchurch Road, and the Service Road. Surfaces are gravel and/or dirt with many rocky sections and stream crossings. Helmets are recommended because of the rocky terrain. Trail maps for hikers, horseback riders, and mountain bikers are available.
Rhododendron Trail. [Fig. 33(5)] This 2.5-mile hike connects Massie Gap with the white-blazed Appalachian Trail to the north. Many hikers use the Rhododendron Trail to make a 4.3-mile (one-way) trek to Mount Rogers, Virginia's highest point.
The trail first leads across a field and then follows an old wagon road across a hillside where wild ponies graze. At the top of the hill on the right is the head of Sullivan Swamp. The water table is just below the surface of this boggy depression. An insulating covering of moss keeps the water and air cool.
The moss-covered bogs such as Sullivan Swamp are called muskegs, a plant community usually associated with Canada and Alaska. Such bogs still harbor boreal plants and animals from the last Ice Age, 10,000 years ago. Most northern species died off or migrated north with the retreating ice. Only a few Appalachian peaks and bogs are high enough to sustain them. Fraser fir, red spruce, and big-toothed aspen are three boreal trees that grow in Sullivan Swamp. Painted trillium (Trillium undulatum) is another bog-loving plant that thrives in the moisture of the swamp. A V-shaped splash of pink at the base of a wavy white leaf is an identifying mark. Trillium, which are members of the lily family, have three petals, three sepals, and leaves in whorls of three.
On the way to the Appalachian Trail connection, the path crosses three rugged, rocky outcrops of Wilburn Ridge. The ridge was named for Wilburn Waters, a famous bear hunter and wolf trapper of the 1800s. The high, windy slopes give visitors the feeling of being on top of the world. Since there's no view from tree-covered Mount Rogers, photographers can get their fill of outstanding vistas and alpine landscapes here on Wilburn Ridge. Wildflowers add a changing mosaic of color spring through fall. Orange hawkweed (Hieracium aurantiacum), for example, sends up its single dandelionlike flower among the rocks. The plant's name comes from an old belief that hawks ate the orange flowerheads to aid vision.
At the AT connection is Rhododendron Gap, where hikers pass through the dense thickets of Catawba rhododendron or mountain rosebay (Rhododendron catawbiense) that give the trail its name. The evergreen shrub is called purple laurel by mountain folk.
From Rhododendron Gap, it's an easy 2-mile hike to the rounded summit of Mount Rogers. Although the trees block the view from Virginia's highest peak, they are interesting because they comprise the best spruce-fir forest in Virginia.
Trail: 3-mile, blue-blazed trail from Massie Gap across rocky ridge, providing connection to AT and to Mount Rogers.
Elevation: 4,600 feet at Massie Gap to 5,526 feet at Wilburn Ridge.
Degree of difficulty: Moderate.
Surface and blaze: Grassy and rocky. Blue blaze.
Twin Pinnacles and Big Pinnacle Trails. [Fig. 33(8, 13)] Twin Pinnacles Trail is an easy, 1.6-mile loop on Haw Orchard Mountain connecting the park's two highest peaks—Little Pinnacle (5,089 feet) and Big Pinnacle (5,068 feet). The loop that connects the pinnacles is accessible from an easy trail behind the visitor center (closed in winter) or by Big Pinnacle Trail.
Big Pinnacle Trail is a short but steep .4-mile climb from Massie Gap parking lot. At the intersection with Twin Pinnacles Trail, go right to climb to Big Pinnacle (steep only at the base) or left to Little Pinnacle. Many hikers make return trips to the peaks to experience the 360-degree view of surrounding mountains in different seasons and in different weather conditions. Strong updrafts on Haw Orchard Mountain are the norm, especially on Big Pinnacle. On clear days, the two highest points in Virginia are visible to the northwest—Mount Rogers (5,729 feet) and Whitetop (5,520 feet).

The Big Pinnacle Trail ascends through heath thickets of mountain laurel, rosebay rhododedron, flame azalea, huckleberry, and minniebush into the northern hardwood forest of Haw Orchard. Minniebush (Menziesia pilosa) is a low Appalachian shrub with small, bell-shaped flowers. In early summer, their white-to-purplish color combines with the whites, pinks, reds, and red-oranges of the other heaths in a brilliant display. Bloom times on the peaks may be as much as a month behind those in the valley. Witch-hazel, which also grows among the boulders along the Twin Pinnacles Trail, has spidery yellow blossoms in late fall. A forked stick from the witch-hazel tree is used to locate underground water in a technique called "witching."
Trails: Big Pinnacle Trail is a .4-mile climb on Haw Orchard Mountain from Massie Gap to Twin Pinnacles Trail. Twin Pinnacles is a 1.6-mile loop connecting Big Pinnacle and Little Pinnacle.
Elevation: 4,680 at Massie Gap to 5,089 feet on Little Pinnacle.
Degree of difficulty: Easy, with short, steep section at top of Big Pinnacle Trail.
Surface and blaze: Grassy and rocky sections. Big Pinnacle: Yellow blaze. Twin Pinnacles: Red blaze.
Wilson Creek Trail. [Fig. 33(4)] The 1.8-mile, white-blazed Wilson Creek Trail begins across the road from the log cabin just before the entrance to the campground. In summer, the woods along the steep path to Big Wilson Creek are carpeted with ferns. Fraser magnolia and striped maples are in the understory as the path descends to the stream. The striped maple is a small northern tree. Its green bark has vertical white stripes.
Yellow birch and rosebay rhododendron shade the rushing stream where boulders form pools and hide brook and rainbow trout. These trout were stocked during the Depression era and adapted well to cold Big Wilson Creek. In mid- to late July, the rhododendron's white blossoms begin dropping into the swirling waters and plunging over the 25-foot waterfall along the trail.
The dark, tea-colored water of the creek is caused by tannin which leaches from plants in a bog in the creek's headwaters. Big Wilson drains Pine Mountain in Mount Rogers National Recreation Area. Along the trail, the creek separates Grayson Highlands State Park and the Little Wilson Creek Wilderness.
Trail: 1.8-mile loop from parking lot near campground.
Elevation: 4,275 feet to 4,100 feet.
Degree of difficulty: Moderate.
Surface and blaze: Natural forest floor, with rocky sections. White blaze.
Rock House Ridge Trail. [Fig. 33(1)] Rock House Ridge and Trail are named for a huge boulder at the trailhead. The underside of the boulder slants to provide a picnic shelter. The many Indian artifacts discovered here indicate the rock has provided shelter for many humans over the years. The Cherokee were probably one of the tribes that frequented the area.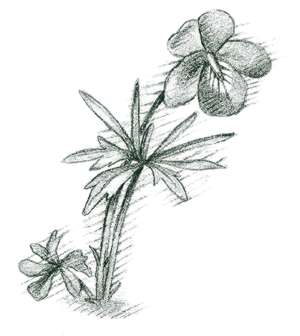 Near the trailhead are two rebuilt log cabins, a springhouse, and a cane mill illustrating the harsh life of early settlers. At the mill, sorghum was ground to make molasses. The trail passes through a thick canopy of rosebay rhododendron, then through mountain laurel and chestnut oak, then sugar maple, then large white oaks, and finally to an open field of blackberries and wildflowers above Mill Creek.
The trailhead is across the road from the second parking lot in the picnic area.
Trail: 1.2-mile loop to meadow above Mill Creek.
Elevation: 3,930 to 3,850 feet.
Degree of difficulty: Easy to moderate.
Surface and blaze: Natural forest floor. Blue blaze.
Cabin Creek Nature Trail. [Fig. 33(15)] This easy 1.9-mile loop down to Cabin Creek from the Massie Gap parking area has two waterfalls at its bottom. One of the falls is a split stream that tumbles 25 feet over the rocks into a clear, dark pool.
Big-toothed aspens (Populus grandidentata), rare this far south, grow along the trail. The triangular leaves have large teeth and are green above, silvery below. As with quaking aspen, the long petioles or leaf stems cause the leaves to tremble and rattle in the slightest breeze. From the fast-growing network of aspen roots, "clone" stems emerge to form new trees. Some clones in Minnesota contain nearly 50,000 trees. One is estimated to be 8,000 years old—possibly one of the oldest organisms on earth.
Trail: 1.9-mile loop from Massie Gap parking area to Cabin Creek and waterfalls.
Elevation: 4,600 feet at Massie Gap to 4,400 feet.
Degree of difficulty: Easy.
Surface and blaze: Natural forest floor. Orange blaze.
---
Read and add comments about this page
---
Reader-Contributed Links to the Virginia Mountains Book: