Burkes Garden Area
Burkes Garden
[Fig. 18(7)] Few people ever stumble upon Burkes Garden by accident. A topo map or relief map will make clear the reason why. The pastoral community—10 miles long and 4.5 miles wide—is surrounded by bowl-shaped Garden Mountain.
Several other mountains butt up against Garden Mountain, making access even more difficult. Contributing to seal off Burkes Garden from the rest of the world are Rich, Clinch, Little Brushy, Brushy, and Round mountains. At 3,100 feet, the elevation of Burkes Garden gives it claim to the title "highest valley in Virginia." The mountains around it rise to 4,408 feet on the ridge of Beartown Wilderness. If a visit brings you here on a sweltering July day, you may think fall has come when you feel temperatures in the valley as much as 15 degrees Fahrenheit lower than outside.
The ridges of Garden Mountain are made of erosion-resistant sandstone, while the material that once filled the valley was highly erodible limestone and shale. Much of the limestone and shale, eroding over the millennia, gradually disappeared through a canyon on the north side, and some has dissolved in the waters that sink beneath the porous base. The same canyon that drained material from the bowl is almost blocked by Rich Mountain. Burkes Garden Creek, carrying water from the many mountain springs that nourish the valley, manages to thread its way through the canyon, turning right at Rich Mountain. There it joins Little Creek to form Wolf Creek, part of the New River drainage.
Burkes Garden lies within the boundaries of southern Tazewell County, but to keep the community in the county, the Tazewell boundary has to bulge into Bland County. In fact, the Bland County line traces a line around the ridges for about two-thirds of the distance. Hikers on the Appalachian Trail, which runs along the Garden Mountain ridge on the south side, are walking the county line—and enjoying incredible views. If engineers should get the notion to convert this giant thumbprint in the topography into the world's biggest stadium, they can forget it. Most of the surrounding mountains fall within the Jefferson National Forest's Wythe Ranger District, and Beartown Wilderness snuggles up against the southwest flank of the basin. Besides, in Burkes Garden, nobody's selling.
Farms in the community have been owned by the same families for generations. George Washington Vanderbilt, who built America's largest private home in Asheville, North Carolina (Biltmore Estate), first tried to buy land here in the late 1800s for his dream home. The locals were unimpressed with the money being offered. No one parted with a single acre.
Despite the difficulty in crossing the mountains to see this unusual bowl, it's worth the effort. A good time to visit and meet the people who live here is during the Burkes Garden Fall Festival, held annually on the last Saturday in September.
The northern entrance is paved and easier to drive than the southern entrance. The southern entrance is closer for most traveling up and down the valleys of Virginia, and offers the best view from the top. However, in winter the dirt road may be impassable and even in spring, the deep hollows may still be iced over. Whatever the route of entry, those who negotiate the many switchbacks in the mountain roads on the north or south entrances are amazed as they descend into the giant bowl.
At the bottom, they find fields of cattle and sheep, mailboxes with nothing on them but a name, the state's smallest telephone company, and two stores. One is run by the Amish, who farm, make crafts, and operate several other businesses. The Amish sell baked goods and garden-fresh vegetables. An elementary school is here, but high school students are bused out of the valley to Tazewell. On a prominent knoll is a Lutheran cemetery, with German headstones from the 1700s.
Directions: Northern entrance (paved): from I-77, in northern Bland County, take Exit 64 (Rocky Gap) and go west on VA 61, toward Tazewell. Drive 19 miles and turn left on VA 623, which leads over Rich and Garden mountains to Burkes Garden. Southern entrance (dirt): from I-77 at Bland, in south-central Bland County, take Exit 52 and go west on US 42 about 10.5 miles and turn right on VA 623. Follow the winding road with many switchbacks approximately 5 miles, first over Brushy Mountain, then over Garden Mountain and into Burkes Garden.
For more information: Tazewell County Tourism, Route 1, Box 194, Tazewell, VA 24651. Phone (800) 588-9401. Also, Tazewell Area Chamber of Commerce, Tazewell Mall Box 6, Tazewell, VA 24651.
Beartown Wilderness
[Fig. 18(8)] As the old saying goes, you can't get there from here. Beartown Wilderness, encompassing 6,375 steep, rugged acres west of Burkes Garden, has no roads and only one primitive hiking trail leading into it. Vehicles with a high wheel base can take a rough road from the lower parking area of the wilderness to Chestnut Ridge on the southern border of the wilderness. The well-maintained Appalachian Trail (AT), blazed with white bars, also runs along this ridge for 3 miles.
The northern border of the wilderness is the equally formidable Clinch Mountain. A few old logging roads are fast being reclaimed by the forest. Blow-downs, fallen limbs, and new growth make even foot travel a challenge. For those who enjoy wilderness, however, the difficulty of access is a plus. Exploring streams, hollows, and slopes is a solitary venture, where the eyes of wild animals rather than other people watch visitors curiously.
Few people take the trouble to follow Roaring Fork, a native trout stream, to its beginnings on the Tennessee Valley Divide on Garden Mountain, where a stunning view of Burkes Garden opens up below. Fewer still have identified rare plants that exist here, or found the beaver ponds or the sphagnum bog where Cove Branch begins. Those hardy souls who become familiar with Beartown know it for its diversity. Elevations vary from 2,300 feet at Roaring Forks's confluence with Laurel Creek to 4,408 feet on the ridgetops. A northern spruce-fir forest grows at high elevations. Red oak, chestnut oak, white oak, and varieties of hickory dominate the dry slopes. Hemlocks and heavy thickets of rhododendron hug the protected hollows. An angler wading Roaring Fork in spring to fish for native brookies may hear wild turkey gobbling in the forest. A bobcat may slip through the undergrowth, unnoticed. In summer, resident warblers flit through the heath thickets where white-tailed fawns lay hidden. Blue jays flock in the tops of white oaks in fall while, below, a chipmunk with bulging cheek pouches scoots back and forth, storing a cache of nuts in its burrow for winter. The "yank-yank" of a nuthatch or bell-like whistle of a tufted titmouse keeps the woods alive during winter's icy grip.
Camping is available at an AT shelter on the southeast corner of the wilderness. Because the wilderness is part of the Jefferson National Forest, visitors can also camp anywhere within it. Visitors need their topo map, compass, and a water supply before starting out.
Directions: From I-77 in south-central Bland County, take Exit 52 and turn left onto US 52/VA 42. Go 14.4 miles west on VA 42 and go right on VA 625. Bear right when road forks after .5 mile. Go 7.3 miles from fork to lower parking area, .2 mile past AT crossing. Hike 2 miles north on the AT to get to Chestnut Ridge and the wilderness border.
Activities: Hiking, fishing, camping, hunting.
Facilities: None.
Dates: Open year-round.
Fees: None.
Closest town: Tazewell is approximately 20 miles to the northwest. Wytheville is 20 miles southeast.
For more information: Wythe Ranger District, 1625 West Lee Highway, Wytheville, VA 24382. Phone (540) 228-5551.
The Little Wolf Creek Area
A pair of trails, combined with the Appalachian Trail (AT), give hikers two loop hikes of 6.75 miles and 3 miles on Brushy Mountain and Little Wolf Creek [Fig. 18(4)] (not to be confused with Wolf Creek to the north). The area is located just southeast of Garden Mountain, which surrounds Burkes Garden, and is west of I-77 at Bland. These trails and a picnic area are among the few developed portions of this area of the Jefferson National Forest.
High Water Trail and Trail Boss both begin on VA 615 at a parking area on Laurel Creek. Both are blue-blazed trails used as alternate routes by AT hikers during periods of heavy rain. High Water Trail is on the west side of the road. The lower section of the loop follows the white-blazed AT up pretty Little Wolf Creek, crossing the creek often. The upper, blue-blazed portion returns along the top of Brushy Mountain. A short walk along VA 615 returns you to the parking area.
The Trail Boss loop is on the east side of VA 615, combining with the AT for a hike that includes crossing a bridge over a stream that flows around boulders, walking along the stream, and touring the upland hardwoods on the dry slopes of Brushy Mountain.
Directions: From I-77 at Bland, go west on US 52 for 3.25 miles to VA 615. Take right fork (north) and go 2.75 miles to parking lot on left, near a bridge.
Trails: 6.75-mile loop on west side of road and 3-mile loop on the east.
Elevation: 2,400 to 3,100 feet.
Degree of difficulty: Moderate.
Closest town: Bland is 7 miles east.
For more information: Wythe Ranger District, 1625 West Lee Highway, Wytheville, VA 24382. Phone (540) 228-5551.
Picnicking and Hiking at Wolf Creek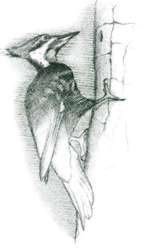 On the banks of Wolf Creek (not to be confused with Little Wolf Creek to the south), just a bit over 3 miles from I-77, there's a place for a picnic on the wide banks of an attractive, free-flowing trout stream. A shelter here accommodates 32 people, with additional sites scattered throughout the woods. A scenic ramp/bridge leads to three loop trails of about 2 miles each in the Jefferson National Forest. Look for impressions of rail timbers still visible on the grade of an old tram line.
Directions: From I-77 at Bastian in Bland County, take Exit 58 and go west about .25 mile, then turn left (south) on US 52. Go .1 mile and go right on VA 614. Follow VA 614 for 3 miles to picnic area.
Activities: Picnicking, hiking, fishing, hunting in surrounding national forest.
Facilities: 14 picnic tables and grills; shelter with 4 tables, 4 grills, and a serving table. 3 loop trails, trout-stocked creek, vault toilets.
Closest town: Bastian is 5 miles to the southeast.
For more information: Wythe Ranger District, 1625 West Lee Highway, Wytheville, VA 24382. Phone (540) 228-5551.
Kimberling Creek Wilderness
[Fig. 18(5)] When spring comes, visitors standing on the crest of Hogback Mountain in eastern Bland County at the edge of this remote national forest wilderness might ask themselves, Who could be trying, every few minutes, to start a chain saw? The sound comes from far down the hollow of Sulphur Spring Fork, on the southeast slope of the mountain. Then a realization hits. A male ruffed grouse is drumming on a decaying log. The rapid-fire sound of a revving motor is made by staccato beats of cupped wings against his body. There it is again—a slow thump-thump-thump that gradually speeds to a crescendo and fades off. Perhaps a female, impressed with the sound, is answering him with soft clucks.
At 3,200 feet, Hogback Mountain is the highest point of Kimberling Creek Wilderness. From here, the wilderness drops to the southeast down several hollows of North Fork and Sulphur Spring Fork, which are tributaries of Kimberling Creek. Just one finger of the wilderness reaches out at the bottom to touch Kimberling Creek, at 2,282 feet.
Hardwoods, interspersed with white and yellow pine, forest the slopes. In the understory are dogwood, sourwood, red maple, mountain laurel, and rhododendron. A few abandoned logging roads and an old railroad grade are all that remain of man's former presence here. Left undisturbed, trillium, pipsissewa (Chimaphila umbellata), and Indian pipe (Monotropa uniflora) now poke their heads through leaf litter where trucks once rumbled, carrying out giant chestnut trees from the mountainside. A visitor standing on the mountaintop may be the only human in the area.
Directions: From I-77, take Exit 52 and go east on US 52 into Bland. In Bland, turn left (north), staying on US 52, and continue 3.9 miles. Turn right on VA 612. Go .3 mile and turn left on FR 640 (rough road). After 4.6 miles, stop at parking area on right.
Activities: Camping and hunting.
Facilities: None.
Closest town: Bland, in central Bland County, is about 5 miles south.
For more information: Wythe Ranger District, 1625 West Lee Highway, Wytheville, VA 24382. Phone (540) 228-5551.
Hiking at Kimberling Creek Wilderness. There are no designated trails in the area. However, about 3 miles of old logging roads and a 3-mile railroad bed (on North Fork) offer limited access for those who enjoy the isolation and don't mind negotiating fallen trees, detouring around thickets, and shuffling through leaf cover. Hiking can be very difficult at times, where storms have blown down giant tulip poplars and pin oaks or ice coverings accompanied by high winds have snapped trees like matchsticks.
A topo map, a compass, and a companion are necessary before heading into this backcountry. Backcountry camping is permitted anywhere within the wilderness. Campers are asked to practice leave-no-trace ethics when cleaning up a campsite.
---
Read and add comments about this page
---
Reader-Contributed Links to the Virginia Mountains Book: