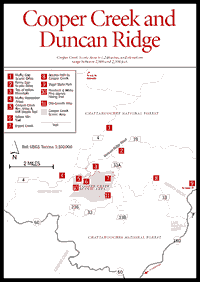 Cooper Creek and Duncan Ridge
The 1,240-acre Cooper Creek Scenic Area [Fig. 22], which ranges between 2,000 and 2,500 feet in elevation, is surrounded by more than 34,000 acres of the Cooper Creek Water Management Area and the slightly larger, overlapping Cooper Creek Wildlife Management Area.
Within the latter are two U.S. Forest Service campgrounds, Cooper Creek [Fig. 22(5)] and Mulky [Fig. 22(4)] recreation areas. Cooper Creek Scenic Area is roughly 1.5 miles long by 1 mile wide. Cooper Creek, a cold mountain trout stream, runs approximately 2 miles down the center of the scenic area.
Numerous small branches join Cooper Creek. Two of these, Stillhouse Branch [Fig. 23] and Deep Cove Branch [Fig. 23], are completely contained within the boundaries of the scenic area. Bryant Creek [Fig. 22(7)], a larger tributary with its headwaters on the south face of Duncan Ridge, parallels the eastern boundary. There are stands of large hemlock and white pine, reaching 3 and 4 feet in diameter, along Cooper Creek (and, to some extent, Bryant Creek) and a short way up its tributaries. These are of special interest because here they are close to the southern geographical limit of the hemlock–white pine community. The only evidence of human occupation in the scenic area is a few rock piles on Deep Cove Branch, a possible former cabin site.
Cherry may have been cut for furniture manufacture in the past, and some dead chestnut was removed from among the giant poplars in the southeast corner. Fire has apparently only rarely touched the hemlock–white pine habitat. Dense growth of uniformly aged white pine on Chestnut Ridge and the ridge along the south boundary of the scenic area may attest to severe burns there in times past.
In an arc crossing the northern part of Figure 22 is Duncan Ridge, perhaps the longest continuous ridge projecting from the main Blue Ridge. Part of Duncan Ridge is traversed by Duncan Ridge Road, accessible from the scenic area or off Highway 180 at Wolfpen Gap. The Duncan Ridge Trail (see Blood Mountain) [Fig. 24(3)] is reached at several points off the Duncan Ridge Road or at Mulky Gap [Fig. 22(4)]. The north side of Duncan Ridge offers many opportunities to explore exciting environments such as boulderfields and northern hardwood forests in the coveheads, which also have spring wildflower displays.
Directions: From US 19 north of Dahlonega, turn left onto GA 60. Continue approximately 15 miles, through Suches, to FS 4 on right and go 6 miles.
For more information: U.S. Forest Service, Brasstown Ranger District, 1881 GA Highway 515 West, Blairsville, GA 30512. Phone (706)745-6928.
Mulky Campground
[Fig. 22(4)] A small campground with 11 campsites. Camping is usually from the Wednesday before the last Saturday in March through October 31. There are sanitary facilities, drinking water, tent pads, picnic tables, and cooking grills.
Directions: Same as for Cooper Creek, above. Once on FS 4, continue on this dirt/gravel road entering and leaving national forest property once before reentering just before the campground sign. Distance is 4.9 miles from GA 60.
Cooper Creek Recreation Area
[Fig. 22(5)] Located along the banks of sparkling mountain streams stocked with trout, adjacent to the Cooper Creek Scenic Area. The 17 campsites can accommodate either tents or trailers up to 22 feet. There are sanitary facilities, drinking water, tent pads, and cooking grills. The Mill Shoals Trail originates in the Recreation Area and the Yellow Mountain Trail is nearby.
Directions: Same as for Cooper Creek and Mulky Campground, above. Cooper Creek Campground is 5.7 miles from GA 60.
Hiking Trails
HEMLOCK AND WHITE PINE STANDS. A suggested walking route to see the streamside stands of hemlock-heath and white pine begins at the bridge over Cooper Creek on Cavender Gap Road, FS 236 [Fig. 22(10)], and follows the right (south) bank to at least the second small feeder branch coming in on the right side. Here is a rough trail made by fishermen. It passes through a grove of white pines [Fig. 23(3)], then under an almost solid canopy of rhododendron and mountain laurel [Fig. 23(7)]. After .25 mile, one begins to encounter the large hemlocks and white pines. At the second branch [Fig. 23(6)] is another intriguing grove in the tiny valley of the feeder stream. Farther up these small branch streams are cove hardwoods—oak, buckeye, hickory, cucumber tree, and yellow poplar.
OLD GROWTH FOREST HIKE. [Fig. 22(11)] About 1 mile. Park at a low gap [Fig. 23(17)] about .4 mile from the end of the pavement going east on FS 33. There will be an old road pitching steeply north, the first road to the left after leaving the pavement. Walk down this road and take the first left-hand log road [Fig. 23(13)] just before the Turkey Creek ford. This nearly level log road passes through several moist coves with wildflower displays. Across Cooper Creek is a 6-acre bottomland that has been continuously in cultivation since the time of white settlers and probably since Indian days.
After passing two small coves, watch for the first place where a vehicle could be turned around (the turnaround is on a ridge that leads down to a fine pool at the mouth of Bryant Creek [Fig. 23(6)]). From the turnaround ridge, the first of the big trees [Fig. 23(9)] is only several hundred yards along the old log road. The old growth forest has widely spaced specimens of large white and northern red oak and black birch, but the largest trees are giant tulip poplars with circumferences of up to 18 feet. Storms through the ages have broken the tops out of many of them. While many big trees can be seen from the log road, others must be searched for above and below the road. The log road continues, crosses a white pine ridge, and in about .25 mile reaches the "valley of the giants" where the largest poplars grow [Fig. 23(16)]. The trail continues to parallel Cooper Creek for an undetermined distance.
MILL SHOALS TRAIL. [Fig. 22(5)] This 3.4-mile, orange-blazed trail is considered moderate to strenuous. It begins north of the Cooper Creek Recreation Area; the starting point and the trail are blazed well. Stay to the right when entering the trail. It climbs steeply to a ridgetop, then descends through hardwoods to a jeep road, turns right onto the jeep road for 15 or 20 paces, then narrows and drops toward a stream on the left. It winds through an area with tall hemlock, white pine, and dense vegetation, crosses three small streams, turns right on an old road, and in about 50 feet turns left. At Duncan Ridge Road it turns right. Stay on the road until you reach Shope Gap, where it joins the Shope Gap Trail.
COOPER CREEK TRAIL. This is an easy, blue-blazed connector trail between Mill Shoals Trail and Yellow Mountain Trail. It can be accessed by hiking .6 mile from the Mill Shoals trailhead or 1 mile from the Yellow Mountain trailhead.
YELLOW MOUNTAIN TRAIL. [Fig. 22(6)] This yellow-blazed trail is mainly a ridge trail. It is 2.7 miles and is considered moderate to strenuous. The trail entrance is marked by a yellow post on the northeast side of Cavender Gap Road, FS 236. At the start of the trail, one passes through a shady grove of hemlock on a hillside above a small stream; later there are several large remnant oaks. This footpath splits into two trails 1.3 miles from the trailhead. The left fork (Shope Gap Trail) continues north and intersects with Duncan Bridge Road. The right fork (1.4 miles) continues on across Bryant Creek, ending at Addie Gap on Bryant Creek Road.
SHOPE GAP TRAIL. This green-blazed trail is accessed via the Yellow Mountain Trail 1.3 miles from the trailhead. The left fork is the beginning of the Shope Gap Trail, which is .9 mile long and rated moderate to strenuous. This trail continues north and intersects with the Duncan Bridge Road.
EYES ON WILDLIFE TRAIL. This is a 1.6-mile loop trail, created in 1993. Pick up the easy-to-moderate trail by crossing the Tom Jones Branch bridge and follow the directional arrows. Initially, look for tall Eastern white pines and saplings planted after salvage logging and a prescribed burn. Turn onto a logging road and watch for animal tracks. The last portion of the loop leads you through second-growth forest and back to the stream.
For more information: U.S. Forest Service Brasstown District, 1881 GA Highway 515 West, Blairsville, GA 30512. Phone (706)745-6928.
Note: These trails are located within the Cooper Creek Wildlife Management Area, open for hunting during the various hunting seasons throughout the year. Use extra caution during hunting seasons by wearing bright colors. The U.S. Army conducts training exercises in the vicinity; you may hear aircraft or small-arms fire, or see marching soldiers.
SCENIC DRIVES
There are three scenic drives that can be made through the area. Each drive begins at the entrance sign to Cooper Creek on FS 4.
MULKY GAP DRIVE. [Fig. 22(1)] The first drive continues on FS 4 north across Mulky Gap. It goes up along Mulky Creek, with a beautiful streamside zone of hemlock-heath. Soon after the gap, one can either turn right on FS 40—a dead-end road that in May and June will reward the visitor with a display of mountain laurel in bloom—or continue on FS 4, which winds down to US 76 west of Blairsville.
FANNY GAP DRIVE. [Fig. 22(2)] Turn right (east) from FS 4 onto FS 39. It passes Fanny Gap before turning sharply to follow Duncan Ridge past Buckeye Knob, Coosa Bald (4,271 feet), and Wildcat Knob. The road ends at GA 180, which goes east to Vogel State Park [Fig. 22(9)] and US 19/129, past Sosebee Cove Scenic Area, or goes west past beautiful, trout-stocked Lake Winfield Scott to GA 60 at Suches.
THE LOOP DRIVE. Turn right (south) near the Cooper Creek Recreation Area [Fig. 22(5)] onto the dirt Cavender Gap Road (FS 236) which winds through a forest of large Eastern white pine, Eastern hemlock, oak, hickory, and poplar and ends at paved FS 33 (Turkey Creek Road). Turn left (east) and proceed until the pavement ends after approximately 2 miles. Go on the gravel road for .4 mile to a low gap (Twomile Gap) where a narrow road dips steeply at the left. This is the main entrance to the east end of the scenic area and the starting point for the short hike to the virgin old growth area. The gravel road continues to the point where FS 33 makes a hairpin curve to the right. Here, go straight ahead onto FS 33A [Fig. 23], which crosses Cooper Creek, Addis Gap, and Bryant Creek before ending at FS 39. Turn left and go to the juncture with FS 4; turn left again and return to the starting point.
A Canoeing Guide to Cooper Creek
Cooper Creek flows from the base of the dam on Lake Winfield Scott [Fig. 22]. The dam is 14.5 miles south of Blairsville on GA 180. From its beginning, Cooper Creek twists and flows out of the mountains for 15 miles before it joins the Toccoa River along GA 60. The creek runs through the Chattahoochee National Forest and two areas within the Cooper Creek Wildlife Management Area and Cooper Creek Scenic Area. Cooper Creek has long been a popular trout-fishing stream and could well become one of Georgia's most popular canoeing streams as well.
The first 4 miles of Cooper Creek are too narrow and shallow to canoe, and the final 4 miles flow mostly through flat, privately owned farmland. The 7-mile stretch in between, however, is as interesting a run of Class II whitewater as Georgia has to offer. The average gradient of Cooper Creek is a steep 40-plus feet per mile, which puts it in the "gradient class" with such mighty rivers as the Chattooga Section IV (45 feet per mile) and Alabama's Little River Canyon (31 feet per mile). However, because Cooper Creek has a smaller watershed area and a lower level of water, it is less difficult to canoe than either of these rivers. Cooper Creek is within the Class II–III difficulty range. Nevertheless, the creek is a steep little stream that requires experience and skill to negotiate. There are two waterfalls—one drops 5 feet and the other 8 feet—which are good Class III runs. A long slide of twisting channels and barrier rocks, which descends more than 5 feet, is, in high water, a Class III run as well.
Directions: To reach the put-in on Cooper Creek, go north out of Dahlonega 9 miles on US 19/GA 60 to the point where the two roads separate. Bear left on GA 60, go 7 miles to Suches, and turn right (north) onto GA 180. Go north on 180 for 4.4 miles to Lake Winfield Scott Recreation Area. Turn left on FS 33 and go 5 miles. An access path leading down to the edge of the creek branches off FS 33 at the 5-mile point. Limited but adequate parking space is provided at this put-in. To reach the take-out, go west from the put-in on FS 33 for 1.4 miles to an intersection. (A right turn at this intersection and a .1-mile drive will lead to the Bryant Creek Road Bridge. The bridge offers a good view of the river and could serve as an alternate put-in, shortening the canoe trip by 1.7 miles.) At the intersection, turn left and continue 3.5 miles on FS 33 to where it meets FS 236; turn right (north) on FS 236 and go 2.3 miles to the Cooper Creek Scenic Area and the Tom Jones Creek Bridge over Cooper Creek; cross the bridge and continue .5 mile through the campground; turn left (west) on FS 4; and go another .5 mile to Mulky Creek Campground [Fig. 22(4)]. The total distance from put-in to take-out is about 7 miles.
Map References: 1:24,000 series: Suches–Neel's Gap–Mulky Gap–Coosa Bald.
---
Read and add comments about this page
---
Reader-Contributed Links to the Georgia Mountains Book: