McIntosh County
With fewer than 10,000 residents, McIntosh County offers the greatest diversity of attractions and the least foot traffic of any county on the Georgia coast. The county features several commercial fishing villages, three wildlife refuges, one marine sanctuary, numerous coastal restaurants, two historic forts, several antebellum rice plantations, and the magnificent Altamaha River. Because it is a little off the beaten path, McIntosh County still retains the flavor of the "good old days" on the Georgia coast, but this may be changing as development comes to the county.
McIntosh County is fronted by three barrier islands to the east: Blackbeard, a national wildlife refuge; Sapelo, a wildlife refuge and research reserve; and Wolf, a national wildlife refuge that is predominately tidal marsh. To visit Blackbeard, one must charter or use one's own boat. Sapelo is reached by a ferry that carries tourists twice a week to the island. Wolf Island National Wildlife Refuge can be viewed from the water by private boat or charter, but the beach and all upland areas are closed to the public. Harris Neck National Wildlife Refuge, located on the mainland, is very accessible and is excellent for bird watchers and naturalists.
The most difficult wildlife habitat to see is Gray's Reef National Marine Sanctuary, located offshore 17.5 miles east of the McIntosh County, and 60 feet below the surface. The sanctuary attracts both fishermen and scuba divers that are interested in the live bottom's marine life.
McIntosh County is defined by the South Newport River to the north and the Altamaha River to the south. At the northern end of the county, Interstate 95 and US 17 enter at the middle of the county and cross the Altamaha River channels near Darien at the southern end. Most of the attractions described here are east of these highways. A great place to start is at the McIntosh County Welcome Center located in Darien next to the US 17 bridge, where excellent maps and tourist information are readily available. To visit attractions in the northern portion of McIntosh (north of the Sapelo River) such as Harris Neck National Wildlife Refuge and Shellman Bluff, use Interstate 95 Exits 12/67 and 11/58. For other attractions, use Exit 11/58 at Eulonia or 10/49 at Darien, and proceed on GA 99, which makes an arc from Darien to Eulonia along the eastern front of McIntosh County, past the historic marsh-front communities of Crescent, Cedar Point, Valona, Meridian, Ridgeville, and Ashantilly. (The best book about McIntosh County is the 858-page Early Days on the Georgia Tidewater by Buddy Sullivan, one of the finest county histories ever written.)
A navigational note: Many roads are poorly marked. Local restaurants and other attractions have responded by putting up numerous small signs to their establishments. Some citizens believe the signs are tacky road trash, other say they are part of McIntosh County's charm. As you leave Interstate 95 or US 17 looking for one of these attractions, you might want to look for signs that will lead you to your destination.
The Smallest Church in America
[Fig. 13(2)] Near the community of South Newport is "The Smallest Church in America," a popular local landmark that is open to the traveling public 24 hours a day. Located near US 17, the church is situated in a pine grove called Memory Park that is deeded to Jesus Christ to prevent it from ever being sold. The diminutive Christ's Chapel has room for 12 worshipers, not including a priest, within its 10 feet by 15 feet dimensions. Weddings and special services are held at the church from time to time. It was built in 1950 by a rural grocer named Mrs. Agnes C. Harper. She wanted to provide travelers a quiet sanctuary for meditation and interdenominational worship. The church's interior features a high-pitched roof with exposed beams, along with stained glass windows. A glass star in the roof permits light and inspiration into the interior.
Directions: From I-95, take Exit 12/67 to US 17, go south 1.2 miles to church on left.
Harris Neck National Wildlife Refuge
[Fig. 13(1), Fig. 15(1)] During World War II, P-39 and P-40 fighter planes were common in the skies over Harris Neck when the refuge served as an U.S. Army Air Force base. Today, the airfield is a small but important national wildlife refuge where hawks, egrets, herons, and ducks cruise above abandoned runways.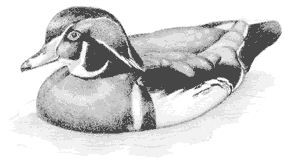 With 2,765 acres, the Harris Neck National Wildlife Refuge is one of the smaller coastal refuges in Georgia, located on the northeastern end of McIntosh County on the South Newport River. Ten Harris Neck refuges could fit into the Savannah National Wildlife Refuge. Despite its modest size, the refuge's diversity of habitat and network of roads providing easy access make it popular with birders, and the refuge is a stop on the Colonial Coast Birding Trail. The freshwater pools, open fields, mixed hardwoods, and salt marsh support many species of wildlife. Besides the birdlife, a variety of flowering plants are found on the refuge. Prickly pear are abundant and can be seen blooming in the fields during May and June.
More than 15 miles of paved roads cross the old airfield, which make the refuge easily accessible to families, photographers, and the physically handicapped. Visitors will enjoy their experience more if they bring binoculars, a bird book, and bug spray. Most popular is the 4-mile wildlife drive, which meanders through the refuge. Near the GA 131 entrance are two fishing piers that are popular with crabbers and shrimpers and an adjacent ramp provides access for boaters into the nearby tidal rivers. Another public boat ramp is found at the southeastern end of the refuge at Barbour River Landing, which is used by boaters and fishermen. Managed hunts are scheduled each year that allow permit holders to hunt deer and hogs.
In the summer, freshwater ponds and flooded woodlands south of the airfield support large rookeries of tricolored, green-backed, and little blue herons; anhingas; white ibis; and wood storks. In spring and summer, many ducks use the ponds, including common moorhens, purple gallinules, and wood ducks. Large concentrations of ducks such as teal, mallards, and gadwalls gather in the freshwater pools and marshlands in the winter.
During spring and fall migrations, the woodlands attract many songbird species. Warblers, vireos, sparrows, and thrushes flit from branch to branch in the live and water oaks and pines as they sing their signature songs. Pileated woodpeckers make use of hardwoods for food and shelter. Year-round residents are deer, feral hogs, raccoons, rabbits, opossums, armadillos, snakes, and fox squirrels. Lucky visitors may see flocks of wild turkeys feasting on acorns or dusting themselves on the refuge's sandy fields. The open fields are hunting grounds for a variety of raptors, including red shouldered hawks, northern harriers, and American kestrels. Occasionally, the birder is treated to a southern bald eagle or peregrine falcon. Stalking fish in the tidal marsh are wading birds such as great blue herons and egrets. A checklist of bird species identified at the refuge is available by contacting the Savannah Coastal Refuges office.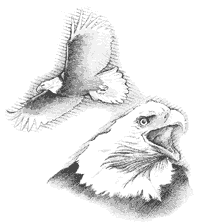 The refuge is the northern end or "head" on top of the long, narrow isthmus that was named for Harris Plantation. Several plantations were located on the strip of high ground, which experienced cotton, livestock, timbering, and rice cultivation activities. The most famous of these was the antebellum Peru Plantation belonging to the Thomas family. After the Civil War, much of Harris Neck was sold in small plots to former slaves, who practiced subsistence farming and raised cattle and chickens. The most famous resident of Harris Neck was Pierre Lorillard, the tobacco magnate, who first spied the area from the deck of his yacht and decided to build a winter retreat here. In 1890 on Harris Neck near the South Newport River, he started on a home that included outdoor fountains and pools. He did not use the estate much because he died within a decade of building the home, which later became federal, then county, property.
In the mid-1930s, the Federal government established an emergency landing field at Harris Neck to serve airplanes using the Jacksonville-Richmond air route. After the attack on Pearl Harbor on December 7, 1941, the government moved to prepare for World War II in earnest. By July 6, 1942, the Federal authorities condemned 1,200 acres, most of it owned by black farmers, and built Harris Neck Air Base, which consisted of 11 prefabricated buildings and several concrete runways. The army installation was used as an integral part of submarine air reconnaissance. Planes watched for German U-boats that patrolled Georgia's shoreline during World War II. Fighter-bomber training operations were also conducted at Harris Neck.
Abandoned in 1(912) 944, the air base became property of McIntosh County. Controversy erupted when the airfield and nearby Lorillard estate were looted and stripped of anything of value while under the management of county authorities. Two county commissioners were charged with stealing, but a local judge dropped charges. The Federal government then took action, reclaiming the property and making it a national wildlife refuge in 1962.
The wildlife drive winds around the property, going past Bluebill and Woody ponds south of the runways. Then the route turns north before turning east right down the middle of a runway, traveling past Snipe, Goose, Teal, and Greenhead ponds. After passing Greenhead Pond, a spur on the left goes north to the South Newport River. Heading right, or south, the visitor passes Wigeon Pond and approaches Barbour River Landing and historic Gould's Cemetery, used by the Gould family, who were coastal settlers, and later black families from Harris Neck.
Hunting: Managed hunts for deer and feral hogs are offered each year. Those wishing to hunt in the refuge must apply for a permit for the particular period when a hunt is scheduled. Bow hunting for deer and hogs is permitted during a period in in September and gun hunting for deer is permitted in a period in November. Contact the Savannah Coastal Refuges office for regulations and an application form.
Trails: 15 miles of networked trails and abandoned roadways. 4-mile auto tour. Biking is excellent on the trails.
Directions: I-95 south from Savannah to Exit 12/67. Go east on US 17 for 1 mile to GA 131. Go east on GA 131 for 7 miles to refuge gate.
Activities: Wildlife drive, bird-watching, hiking, biking, fishing, hunting, boating, canoeing, picnicking, nature study. Guided tours are occasionally available to conservation-oriented organizations through the Savannah Coastal Refuges office.
Facilities: Restrooms, exhibit shelter, boat launch, fishing piers, trails, auto tour. Boat ramps: Harris Neck Creek Recreation Area, located near the entrance of the wildlife refuge, has a boat ramp suitable for small motorized boats and canoes. Fishing piers are popular with anglers. Open sunrise to sunset 7 days a week. Barbour River Landing, located at the termination of GA 131 on the Barbour River, is open 4 a.m. to midnight. Jet Skis are prohibited.
Dates: Open sunrise to sunset 7 days a week. Closed two weeks annually for deer hunts in fall and winter. Portions of refuge may be closed seasonally to prevent disturbance to wood stork rookery.
Fees: No charge.
Closest town: Shellman Bluff.
For more information: U.S. Fish & Wildlife Service, Savannah Coastal Refuges, Parkway Business Center, Suite 10, 1000 Business Center Drive, Savannah, GA 31405. Phone (912) 652-4415.
---
Read and add comments about this page
---
Reader-Contributed Links to the Georgia Coast and Okefenokee Book: