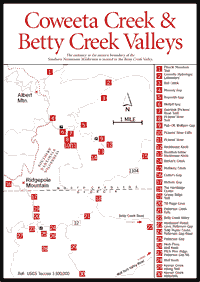 Coweeta Creek and Betty Creek Valleys
Betty Creek Valley
[Fig. 39(22)] This entrance to the eastern boundary of the Southern Nantahala Wilderness is one of the most beautiful valleys in north Georgia. Combining good hiking, scenic views, and pleasant driving tours with the possibility of visits to the Hambidge Center or the Coweeta Hydrologic Laboratory, it will appeal to visitors with recreational, scientific, or cultural interests.
Betty Creek Road offers a scenic drive through this serene valley. The total distance from the turnoff at Dillard to the North Carolina state line where the pavement ends is about 6 miles. The continuation of the road (NC 1104) crosses Beasley Gap and descends Mulberry Creek [Fig. 39(15)] to a beautiful, early spring wildflower area that is accessible by car. It eventually comes out on US 441 south of Otto, North Carolina.
The Hambidge Center
[Fig. 39(18)] The center is the creation of Mary Hambidge, a feminist, environmentalist, and preserver of mountain culture who was 50 years ahead of her time. She helped her husband, Jay Hambidge, codify his ideas pertaining to classical-art design principles, which they labeled Dynamic Symmetry. Their work gained international recognition.
Mary encouraged local crafts, particularly dyeing and weaving, done in the large loom room at the center. She perfected a range of vegetable dyes that has never been duplicated. She decorated President Truman's yacht, designed costumes for dancer Isadora Duncan, and opened a successful shop on Madison Avenue in New York. Eliot Wigginton, who went on to found Foxfire, a hugely successful series of publications dedicated to the preservation of mountain culture, was a protégé of hers. In later years she became reclusive.
Today the Hambidge Center, which consists of an office building, gallery, workshop, dining hall, and a number of cabins on 600 picturesque acres, organizes workshops, seminars, and film and concert series. Approximately 20 different programs are offered during the months of May to October. In addition, each year the center awards 20 to 25 resident fellowships to encourage creative exploration and inner self-renewal.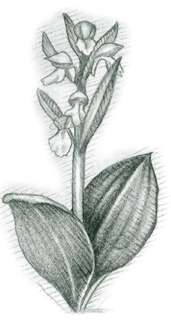 Visitors are asked to register in the office and are welcome to walk the center's nature trails. There is also a water-powered gristmill known as the Barker's Creek Mill, restored for the third time in 1988. It is usually open on Fridays and Saturdays for grinding grains brought by local residents.
Directions: On Betty Creek Road approximately 4 miles west of Dillard.
Dates: Open Mon.–Fri.
For more information: The Hambidge Center, PO Box 339, Rabun Gap, GA 30568. Phone (706) 746-5718.
Patterson Gap
[Fig. 39(25)] The road to Patterson Gap (FS 32) turns left off Betty Creek Road about 3.5 miles from US 441 and crosses a bridge. As one climbs a steep grade, off to the left is Patterson Creek Falls [Fig. 39(21)]. FS 32 passes through Moon Valley. After entering U.S. Forest Service land, the road is steep but scenic through great coves of tulip poplar [Fig. 39(24)] which have come in after the death of the chestnut because of a blight in the 1930s and following logging in the early 1900s. Crossing Patterson Gap, one circles a cove hardwood forest [Fig. 39(23)], then descends along a pitch pine ridge [Fig. 39(27)]. Along the road banks grows the rare sweetfern. This road eventually joins Persimmon Road, which dead-ends at US 76.
Grassy Ridge Trail
[Fig. 39(19)] At Patterson Gap [Fig. 39(25)], a well-known trail goes up Grassy Ridge, forking off to the right to Till Ridge Cove [Fig. 39(20)], considered by many to be one of the finest botanical areas in the state. From more than 1,000 trillium nodding their heads in the spring to dazzling displays of golden witch hazel blooms in late October, the cove offers a constant pageant of wildflowers. The left fork eventually crosses the west side of the ridge at Nichols' Gap [Fig. 39(17)] and encounters the Appalachian Trail at Carter's Gap [Fig. 39(16)]. Hikers along this trail can look up at Ridgepole Mountain (5,007 feet), with its heath thickets out of which emerge some evergreens. South of Patterson Gap stands Wolf Knob [Fig. 39(28)] (3,329 feet). North-facing coves in this area have lush and interesting herb flora [Fig. 39(26)].
Keener Creek Hiking Trail
[Fig. 39(29)] At or near the U.S. Forest Service boundary, a nice trail goes up Keener Creek from the Wolffork Valley loop road past two waterfalls [Fig. 39(30)] in a gorge to the left. Adventurous hikers equipped with topographic maps (the Dillard quadrangle) will notice a large flat area at the head of Keener Creek—an area which should be interesting botanically. This area can be reached either from Patterson Gap or up an old log road turning off the paved Wolf Fork Valley Road just east of the junction with the graveled Blue Ridge Gap Road.
Coweeta Hydrologic Laboratory
[Fig. 39(2)] The Coweeta Hydrologic Laboratory, site of a long-term ecological research program, is studying several watersheds for the effects of logging and other forest-management practices on water yields and quality. Roadside signs indicate the experimental areas and explain the experiments. It is advisable to stop at the office to obtain a map of the area before beginning any exploration. The 14-mile driving tour past the station continues as a loop to US 64 via the Standing Indian Campground and takes approximately 1 hour.
Directions: From Dillard, go north on US 441 4.3 miles to Coweeta Hydrologic Laboratory sign. Turn left and follow signs 2.9 miles to the parking lot.
Dates: The laboratory is open Mon.–Fri., closed holidays. The road to hiking trails, Pickens' Nose, and Cherokee Cave is closed intermittently during periods of bad weather between January 1 and March 15.
Drive Up Ball Creek To Pickens' Nose Trailhead
[Fig. 39(3)] This long and curvy climb leads first to Reynolds Gap [Fig. 39(5)]. Take the left fork at Reynolds Gap to the first place one can see down the slope both north and south of the road. From the pull-off [Fig. 39(9)] here at Wolfpen Gap, a short and fairly level trail leads south to the famed Cherokee Cave, a huge overhanging rock ledge on the west side of Rockhouse Knob [Fig. 39(12)]. Mountain legend holds that three Cherokees hid out here to avoid being driven to Oklahoma during the Indian removal known as the Trail of Tears. Below is a veritable rock city [Fig. 39(13)] of gigantic boulders fractured and fallen from the cliff above. Growing on them are some plants characteristic of boulderfields—a vinelike gooseberry, for example. Farther down the cove of Barker's Creek [Fig. 39(14)] is a rich area with spring seeps and abundant herbs such as Turk's cap lilies. This is a nice hike, but the lower end is private, so visitors should inquire.
The right fork at Reynolds Gap leads to Wolfpit Gap [Fig. 39(6)], where parking is obvious on the right. The Pickens' Nose Trail [Fig. 39(8)] begins here on the left. It is a relatively gentle climb of less than a mile to the top [Fig. 39(11)]. The vegetation and views make it a very attractive hike. At .3 mile, watch for a short spur trail to a rock cliff on the left [Fig. 39(7)], with a great view to the east. The trail runs through northern red oak ridge forest but the surroundings gradually change more to rhododendron and shrubs. Watch for purple rhododendron and the rarer minniebush, Menziesia, along with the common mountain laurel. At the Pickens' Nose Cliffs [Fig. 39(10)] is one of the best views in the eastern part of the wilderness as one gazes out over the vast Betty Creek valley, 2,000 feet below, to Ridgepole and beyond. Outward Bound and others teach cliff climbing here. With care, exploration is possible down, around, and under the cliffs. Plants that grow exclusively on cliffs are found here. One, St. John's wort, is found only on high rock outcrops in the southern Appalachians.
Albert Mountain can be reached by continuing on FS 83 with a short hike on the Appalachian Trail. It affords fine views.
Map References: USGS 1:24,000 series: Prentiss–Dillard.
---
Read and add comments about this page
---
Reader-Contributed Links to the Georgia Mountains Book: