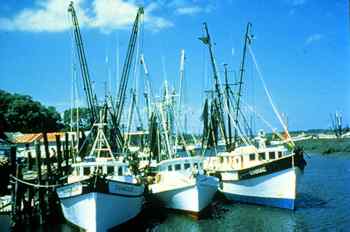 Brunswick
Brunswick is a peaceful port city that has experienced many economic ups and downs since its founding in 1771. Brunswick's fortunes have always been linked to the sea, whether as a port of entry, a shipbuilding center, or a shrimping capital. Perhaps its most successful period was during World War II when Liberty Ships were built in local shipyards that employed 16,000 workers. Since 1960, the town has lost population from 21,000 to 16,500 as the county has grown, with residents relocating to St. Simons Island or unincorporated areas of the county. Today, the city is undergoing a quiet revitalization in its Old Town National Historic District and nearby Victorian residential area. At 14 feet above sea level, Brunswick has the lowest elevation of any city in Georgia, a fact made painfully clear when the hurricane of 1898 put the town under water. Shipping has a tremendous economic impact on Brunswick, which is Georgia's second leading port behind Savannah. The Port Authority plans to deepen the 30-foot harbor to 36 feet to allow for larger cargo ships.
The first European resident of Brunswick was Mark Carr, a Scottsman in Oglethorpe's regiment who was granted 500 acres in the area in the late 1730s. He established a plantation and built a military outpost 4.5 miles northwest of Brunswick on the north bank of the Turtle River known as Carr's Fort, which was attacked by Florida Indians in 1741. In 1771, the town of Brunswick was laid out on a tract of Carr's property.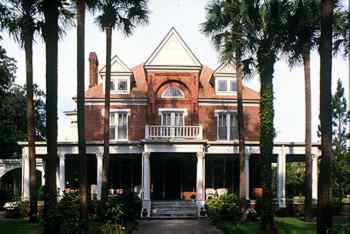 Brunswick is proud of its English heritage. Named for Braunsweig, Germany, the ancestral home of King George II, the streets and parks still retain names honoring English royalty and geography, such as Halifax, Hanover, Gloucester, Norwich, Newcastle, and London, which gives the town a slightly English flavor. After the American Revolution, most colonial towns changed the names of their streets, parks, and landmarks to honor American heroes.
Before the formation of St. Simons Island to the east, Brunswick was oceanfront property. Geologically, the city of Brunswick rests on one of the ancient Princess Anne barrier islands, whose shorelines were washed by the Atlantic Ocean 60,000 to 80,000 years ago. During the Pleistocene Age 25,000 to 40,000 years ago, sea levels rose and fell several times, helping to create St. Simons Island. Marshes filled the lagoon between Brunswick and St. Simons Island. The rivers feeding the Brunswick harbor are relatively short, low volume tidal rivers, which influenced the patterns of development. Unlike the Savannah, Ogeechee, Altamaha, Satilla, and St. Marys delta regions, river plantations never flourished in Brunswick's low country.
Visitors will want to begin their travels at the Brunswick and Golden Isles Visitors Bureau, located at the foot of the St. Simons Causeway and US 17. Here one can pick up brochures and other information about Brunswick and St. Simons and Jekyll islands. One can also examine a 23-foot replica of the Liberty Ships built in Brunswick and an iron pot where the first Brunswick stew was made.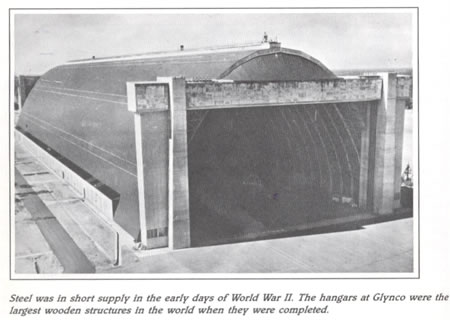 Brunswick played an important role during World War II as the site of a blimp base known as Glynco Naval Air Station and the J.A. Jones Construction Company, which built 99 Liberty Ships in support of the Allied effort in the war. Early in the war, German U-boats patrolled off the Atlantic coastline with impunity, sinking ships with ease and sending their cargo into the depths of the Atlantic. By 1942, more than 500 million tons of ships and cargo had been lost to the German submarines, including several ships in waters near Brunswick. Military authorities decided to build a blimp base near Brunswick, which would perform submarine reconnaissance for coastal shipping. Six miles north of Brunswick, engineers built two blimp hangers. Because of the shortage of steel, the enormous structures were built completely out of wood. Each could hold six blimps simultaneously, and stood 1,000 feet long, 297 feet wide, and 150 feet high. They were damaged by Hurricane Dora in 1964 and demolished in 1971.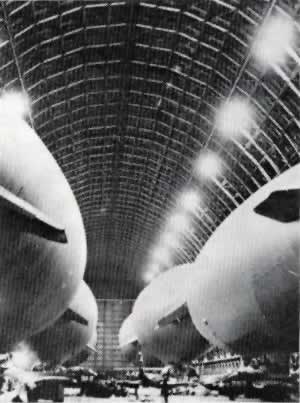 Brunswick's most impressive wartime effort was the construction of Liberty Ships. These were important all-purpose cargo vessels, 416 feet long and weighing 10,500 tons, that were needed to haul supplies to Europe in support of the Allied efforts. J.A. Jones Construction Company established a 435-acre shipyard, which at its peak employed 16,000 workers with a weekly payroll of over $1 million. The goal was to build the ships as fast as they could. The keel to the first ship was laid in early 1943, and by the end of the war in 1945, Brunswick had produced 99 ships.
A short distance south of the visitors bureau on US 17 on the left is Overlook Park and the Lanier Oak, where Georgia poet Sidney Lanier wrote his most famous poem, Marshes of Glynn. Overlook Park provides the breathtaking view of the expansive tidal marshlands that inspired the nineteenth century poet. Lanier, born in Macon in 1842, was a brilliant linguist, mathematician, musician, and lawyer. He fought on the Confederate side during the Civil War, and was captured while commanding a blockade runner and imprisoned in Point Lookout, Maryland. There he contracted tuberculosis. After the war, he stayed at his brother-in-law's house in Brunswick attempting to regain his health. It was during this period that he was inspired to write several poems, including Marshes of Glynn, considered a masterpiece of nineteenth-century American poetry. Lanier succumbed to his disease in 1881 at the age of 39. Lake Lanier in northeast Georgia is named for him.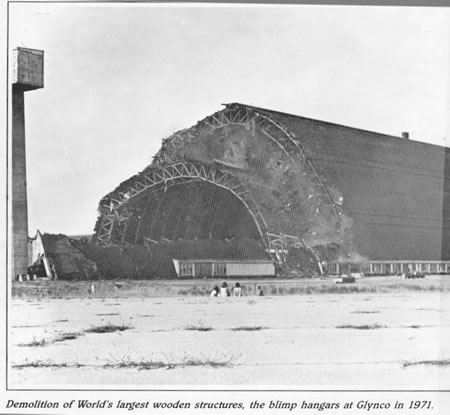 From Overlook Park, take Gloucester Street west to Mary Ross Waterfront Park. This is where Brunswick's shrimp fleet is moored. Here one can photograph the boats as the sun goes down, buy fresh seafood, or relax and soak in the sights and sounds of a working commercial waterfront that has been called "The Shrimp Capital of the World." Harborfest and the Blessing of the Fleet Festival are uniquely coastal traditions that celebrate Brunswick's commercial fishermen. They are held annually on the second weekend in May (see Appendix D). The festival lasts three days and features parades, a road race, arts and crafts, and the "blessing" performed by a Catholic priest on roughly 50 vessels on the last day of the event. The blessing ceremony, an old Portuguese tradition, was initiated in Brunswick in 1938, when mariners of Portuguese descent dominated a much larger shrimp industry. The shrimping industry in Brunswick, like other commercial fishing towns in the U.S., has experienced declines due to tremendous competition from imported foreign shrimp. With more than 70 percent of the domestic market, imported shrimp dominates, as shrimpers from China, Indonesia, India, and Vietnam freeze their shrimp on huge trawlers, store it, and release it when market conditions are favorable. Also, 50 percent or so of foreign shrimp is raised in massive aquaculture operations in countries with low labor costs and few if any environmental regulations, an industry that is not likely to develop in America.
In 1989, the park was dedicated to Mary Ross, a member of one of Brunswick's shrimping families and a historian who coauthored an influential history of Georgia titled The Debatable Land. This book highlighted Georgia's Spanish history and unfortunately asserted that the tabby ruins were of Spanish origin. When this was proven to be wrong a decade later, Ross was devastated and vowed never to publish another word again. However, she did continue to research Georgia's Spanish heritage for the rest of her life, and many valuable documents were donated to the Georgia archives after she died.
Backtracking on Gloucester, the traveler enters Brunswick's Old Town National Historic District, which is bound by H Street, Newcastle Street, First Avenue, and Martin Luther King Jr. Boulevard. The following highlights are worth visiting:
Glynn County Courthouse, at Union Street and G Street, is an impressive building constructed in 1907 and surrounded by beautiful live oaks, dahoon or swamp hollies, and exotics including Chinese pistachio and tung trees. Opposite the courthouse at 1709 Reynolds is the Mahoney-McGarvey House, known as one of the finest examples of Carpenter Gothic architecture in Georgia.
Newcastle Street. This commercial corridor houses many shops and businesses in nineteenth century Victorian buildings, including the Ritz Theater at 1530 Newcastle, which was built in 1898 as the Grand Opera House. Old City Hall, 1212 Newcastle, was designed by noted architect Albert S. Eichberg and constructed in 1890, and it features an impressive example of Richardsonian Romanesque architecture. During the hurricane of 1898, floodwaters rose to the bottom of its first floor windows.
Lovers' Oak, located at the intersection of Prince and Albany streets. According to local legends, this 900-year-old oak has served as a meeting place for lovers since Indian times. The tree trunk is 13 feet in diameter, and 3 feet from the ground it branches into 10 limbs measuring 12 to 30 inches in diameter.
Lodging in Brunswick
Motels. Most people who spend the night in Brunswick stay in a chain motel located out by Interstate 95 on their way to somewhere else. Brunswick offers no fewer than 21 choices at Exits 7A/36A, 7B/36B, and 8/38. Here are some reliable options: Hampton Inn. Exit 7A/36A. Located near Cracker Barrel and Shoneys. Moderate. (800) 368-2189. Holiday Inn. Exit 7B/36B. Newly renovated, free full breakfast, coffee makers in rooms, lunch buffet. Moderate. (912) 264-4033. Ramada Inn. I-95. Exit 7A/36A. With 210 rooms, this is largest motel in Brunswick. Newly renovated, free HBO, in-room coffee, room service, putting green, lounge. Moderate. (912) 264-3621.
Bed and Breakfasts. Brunswick's B&Bs are located in the Old Town Historic District: Brunswick Manor. 825 Egmont Street. Four rooms to choose from here. A full breakfast and high tea included. Moderate. (912) 265-6889. McKinnon House. 1001 Egmont Street. Three rooms in a restored Queen Anne style home featuring furnishings from Charleston and New Orleans. Moderate. (912) 261-9100. Rose Manor Guest House. 1108 Richmond Street. Six rooms available here. Gourmet breakfast and afternoon high tea with harpist included. Moderate. (912) 267-6369.
Campgrounds in Glynn County
Four campgrounds are found in Glynn County; one is on the Altamaha River, one is on Blythe Island, one is near shopping, and the last one is on Jekyll Island. Altamaha Regional Park. 1605 Altamaha Park Road. 45 campsites and full hookup sites, boat rentals, bait, swimming hole, picnic facilities, boat ramp, fishing, camp store, showers, laundry, wilderness surroundings. From I-95, take Exit 7A/36A, go north approximately 15 miles on US 341; at Everett City go right; campsite is 3 miles east on Altamaha Park Road. (800) 281-9322. Blythe Island Regional Park and Campground. 6616 Blythe Island Highway. Features 96 campsites and RV camping with full hookups including cable TV. Lake swimming and fishing, archery range, picnic tables, showers, laundry, marina, nature trail, bike trail, primitive sites available. Marina provides access to South Brunswick River. From I-95, take Exit 6/29, US 17 south; GA 303 north, 3 miles on the right. (800) 343-7855. Golden Isles R&R. 531 Walker Road. 44 full hookups and tent sites. Cable TV, beauty shop, camp store, showers, laundry. Shopping and restaurants nearby. From I-95, take Exit 8/38 onto the Golden Isles Parkway. Turn left at the second traffic light. (912) 265-5794. Jekyll Island Campground. North Beachview Drive. 220 campsites and RV camping on 18 wooded acres. Restrooms, showers, laundry, camp store, bike rentals, plus Jekyll Island attractions. From I-95, take Exit 6/29 to Jekyll Island. Go north on Beachview Drive to campground. (800) 841-6586.
Restaurants in Brunswick
Out by Interstate 95 are predictable favorites with familiar names. The following local restaurants are peculiar to Brunswick and offer a variety of food choices. Jinright's Seafood House. 2815 Glynn Avenue (US 17). If you like your seafood fresh and fried, you'll like this venerable restaurant located near the causeway to St. Simons. Open for lunch and dinner, 7 days a week. Moderate. (912) 267-1590. The Oyster Box. 2129 Glynn Avenue (US 17). This locals' joint is the place to go for affordably priced fresh oysters shucked before your eyes. The chicken wings aren't bad either. Located right at the St. Simons Causeway. Serves lunch and dinner. Closed Sunday. Moderate. (912) 264-3698. Spanky's. 1200 Glynn Avenue (US 17). Fresh seafood daily is served overlooking the marshes of Glynn, along with other standard bar fare. Outside dining is available. Entertainment on weekends. Serves lunch and dinner. Moderate. (912) 267-6100. Wilson's Seafood Restaurant. 3848 Darien Highway. "A Seafood Festival Every Night!" boasts this restaurant, which serves all-you-can-eat dinners Tuesday through Saturday 5–10, with meals of catfish, gator tail, seafood and steaks, and prime rib on Fridays and Saturdays. Moderate. (912) 267-0801. Willie's Wee-Nee Wagon. 3599 Altama Avenue (across from Coastal Georgia Community College). The name says it all. Famous burgers, hot dogs, fish, Polish sausage, chili, steaks, boneless chops, southern iced tea. Serves lunch and dinner. Closed Sunday. Inexpensive. (912) 264-1146. The Georgia Pig. I-95/US 17 S, Exit 6/29. Brunswick may have the highest per capita number of barbecue joints in the country. It's hard to pick the best; this is the most famous one. Serves lunch and dinner. Inexpensive. (912) 264-6664. (See also Two Way Fish Camp.)
---
Read and add comments about this page
---
Reader-Contributed Links to the Georgia Coast and Okefenokee Book: