Marathon
Marathon Area Lodging
Conch Key Cottages
MM 62.3 Oceanside. 62250 Overseas Highway, Walkers Island. "Come and stay on our private island in one of our oceanfront cottages," entices the brochure for Conch Key. Like tourist cabins of the 1940s and 1950s, the five, two-bedroom and three, one-bedroom cottages have screened porches, hammocks, pine walls, ceiling fans, full kitchens, air conditioning, and cable TV. The complex also has efficiencies and apartments. Easy access to a quiet beach, dock, fishing charters, private marina and dockage, boat ramp, and heated swimming pool. Conch Key Cottages are off the highway between MM 62 and 63. Expensive. Web site www.florid-keys.net/conchkeycottages Phone (305) 289-1377, (800) 330-1577. Fax (305) 743-8207.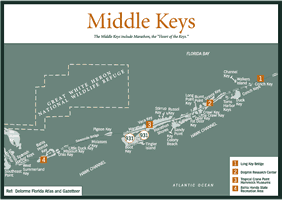 Banana Bay Resort And Marina
MM 49.5 Bayside, Marathon. The resort and marina stands on the site of the original Marathon Tarpon Lodge, developed in the 1950s, which was a respected name as a world-class sport-fishing club. Ten lush, tropical-landscaped acres shelter this full-service resort with new buildings and thus a new name. A marina on the bay has dock space and sailing tours, including a sunset sail. There's also a sailing school on the property and learn-to-sail package vacations. A Tiki bar on the bay boasts the best place to watch the sunset in Marathon. Tennis courts, restaurant, whirlpool, complete water sports rentals. Expensive. Web site www.bananabay.com. Phone (800) 226-2621 or (305) 743-3500. Fax (305) 743-2670.
Faro Blanco Marine Resort
MM 48 Bayside and Oceanside, Marathon. The white and red four-story faux lighthouse, built in the l940s, is the centerpiece of a resort complex with facilities on both the Atlantic and the Gulf of Mexico. You can stay in lighthouse apartments, on a houseboat, or in landside condos. Pets may stay with you in houseboats and cottages, but not the condos. Amenities include four restaurants, a freshwater pool, a bar, a diving center, a full-service marina, and a ships store. Kelsey's, the resort's main restaurant, is a relaxed, pleasant room overlooking the marina, with a dressy menu of seafood, beef, duck, and lamb. Expensive. Phone (305) 743-9018 or (800) 759-3276. Fax (305) 289-7599.
Hawk's Cay Resort
MM 61 Oceanside, Duck Key. This is the Middle Keys' most deluxe and all-encompassing resort complex, and it's on its own 60-acre tropical island. Just name it, and it's a few steps from your deluxe guest room, suite, or two-bedroom villa. The choices include a lagoon, pools, tennis, access to a nearby golf course, deep sea and backcountry fishing, diving, Jet Skiing, children's programs, parasailing, glass bottom boat and snorkeling trips, sunset cruises, a 110-slip marina and dive shop, an array of dining from casual to dress-up, bars, and nightclubs. The resort also has its own dolphin encounter programs. Casual, yet elegant. Very expensive. Phone (305) 743-7000 or (800) 432- 2242. Fax (305) 743-0641. Web site www.hawkscay.com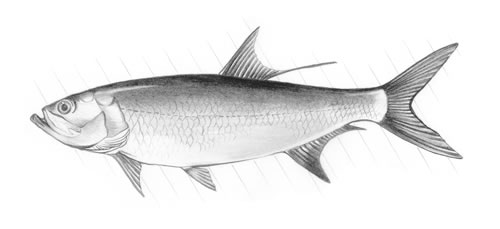 Rainbow Bend Fishing Resort
MM 58 Oceanside, Marathon. This small, intimate resort complex is 4 miles north of Marathon with a private beach, dock, pool, and spa. There is a bait and tackle shop and you can arrange boat charters and tours and diving trips. Guests in suites and efficiencies have free use of motor boats, kayaks, spyaks, paddleboats, and sailboats, as well as complimentary full breakfast daily. The Hideaway Restaurant includes an open-air second-floor area overlooking the beach, and is surprisingly upscale. Entrees include seafood, duck, prime rib, and steaks. Very expensive. Phone (305) 289-1505 or (800) 929-1505. Fax (305) 743-0257.
Seascape Ocean Resort
MM 52 Oceanside, Marathon. Former New England professional photographer Bill Stites and his wife Sara, an artist, are hosts of this casually elegant small resort located in a quiet residential neighborhood off the Overseas Highway near the Marathon Airport. Bright, cheerful guest rooms are decorated with Sara's artwork. Some rooms have kitchenettes. Facilities include a freshwater pool, deep-water marina, walled garden with tropical plants and herbs, complimentary afternoon wine and hors d'oeuvres, and an elaborate continental breakfast buffet. Snorkeling and kayaking to a nearby bird rookery is also available. Expensive. Phone (305) 743-6455, (800) 332-7327. Fax (305) 743-8469. Web site www.floridakeys.net/seascape
Marathon Area Dining
Barracuda Grill
MM 49.5, Marathon. If your idea of Keys dining is a shacky place hung over the water, with nets, beer signs, stuffed fish, and photos of grinning anglers and their catches on the walls, the Barracuda Grill definitely is not it. With its minimalist interior, stark white walls, unobtrusive art, functional little bar, and eclectic menu, this small, urbane room could as well be in Key West's Old Town or Miami's Coconut Grove instead of the Marathon strip. The varied appetizer selections include tuna sashimi, conch cakes, and "painfully hot" columnar (take home a bottle of the house Barracuda Bite Hot Sauce for masochistic friends who brag that no sauce yet devised by man is too hot for them). Entrees include dolphin, black grouper, grilled yellowfin tuna, rack of lamb, and grilled beef tenderloin. Dinner Monday through Saturday. Expensive. Phone (305) 743-3314.
The Cracked Conch
MM 49.5, Marathon. Next door to the Barracuda Grill, but worlds apart in style, this is perhaps the casual "typical Keys" place you're looking for, especially if you crave conch. The restaurant's namesake is prepared fried, frittered, stewed, and other basic ways. Other choices include grouper, yellowfin tuna, steak, and chicken.
Moderate. Phone (305) 743-2233.
Herbies
MM 50.5, Marathon. This may be the most traditional Keys restaurant you dine at, popular with locals and visitors alike. Longtime visitors to the Keys won't remember a time when Herbies wasn't here. A basic facility with a counter and screened dining area, air conditioning was only recently added to a portion of the restaurant. Try the homemade fish and conch chowders, cracked conch, and conch or lobster fritters. No checks or credit cards. Inexpensive. Phone (305) 743-6373.
Panda House Chinese Restaurant
MM 50, Marathon. If you're ready for a temporary break from a constant seafood diet, the Panda has a basic, but pretty well-prepared selection of Hunan, Szechuan, and Cantonese standards for dining in and carting out. Inexpensive. Phone (305) 743-3417.
Dolphin Research Center
[Fig. 6(2)] This multifaceted complex on Grassy Key offers visitors another opportunity for an encounter with intelligent, social, often playful bottle-nosed dolphins. Many will remember the TV show Flipper, which originated from this facility.
The Dolphin Encounter is a 2.5-hour educational program that begins with an orientation session about the dolphins and what to expect when you're in the water together. That's followed by a 20-minute structured swim in a pool and a nonstructured session in the Gulf of Mexico. Children must be at least 5 years old and those under age 13 must be accompanied by a participating adult.
Those who would rather watch and not get into the water can take an Educational Walking Tour, where they can observe training sessions and research and look in on Dolphin Encounter swimming sessions. Serious students can sign up for two in-depth programs. DolphinLab is a week-long course that includes seminars and a variety of observational and hands-on activities, as well as swim sessions, training sessions, and food preparation. The minimum age is 18, although students 15 to 17 may participate in offered youth sessions.
DolphinInsight is a three-hour program. Aimed at anyone who has ever wondered what it might be like to be a dolphin trainer, it includes instruction on dolphin physiology and echolocation (dolphins' biological sonar that lets them find food and other objects by sending out sound waves that are reflected back to them). "Graduation" is a hands-on chance to communicate directly with dolphins with verbal and hand signals. Recommended for those at least 12 years old.
Directions: MM 59 Bayside of the Overseas Highway.
Activities: Swimming with dolphins, attending seminars about dolphins.
Facilities: Orientation area, pools and Gulf of Mexico lagoons for dolphin encounters, seminar classrooms, treatment center for burned-out performing dolphins and injured manatees.
Dates: Open daily, except holidays.
Fees: There is a charge for all activities and reservations are required.
Closest town: Marathon.
For more information: PO Box 522875, Marathon Shores, FL 33052. Web site www.dolphins.org Phone (305) 289-1121 or (305) 289-0002.
Tropical Crane Point Hammock Museums
[Fig. 6(3)] The Museums of Tropical Crane Point Hammock are located in a 64-acre hardwood hammock, parts of which have been largely untouched by human hands. This beautiful forest, known as Tropical Crane Point Hammock, is the home of the Museum of Natural History, the Florida Keys Children's Museum, the Adderley Village Historic Site, and an extensive system of trails that lead to a spectacular view of Florida Bay.
This one stop will provide you with a complete background in the cultural and natural history of the Florida Keys. There's a display of replica artifacts such as masks and art pieces from the Frank Cushing archeological dig in 1896 on Marco Island that reveals the rich maritime culture of the Calusa Indians.
The Calusa story is told from early occupation in the Keys, through European contact, to a time in 1763 when, after thousands of years, the last 80 or so families of Calusa Indians left Florida forever. Key Vaca (Marathon) and Key West were the sites of their final settlements.
You'll learn the story of Hernando d'Escalante Fontaneada, a 13-year-old Spanish crew member who survived a shipwreck off the Keys and was raised by Calusa Indians for 17 years. His memoirs stand as one of the most descriptive sources of information on the Indians of the Florida Keys.
There are also displays of artifacts like shell hammers and paleo points from peoples that preceded the Calusa Indians. These people arrived in the Keys around 3,000 B.C. but left very little record. There's also a walk-through replica of a coral reef where you walk along the ocean floor and look at reproductions of reef inhabitants while a tape explains the coral reef system. Dioramas display wildlife of the Everglades backcountry and many Keys habitats.
There is a beautiful display of sea turtle shells and the skull of a mink whale that was stranded on No-Name Key in 1979. But the most intriguing item is the skull of a pygmy sperm whale that still has the tip of a swordfish bill buried in it that apparently was the cause of its death. It was found washed up on a beach in 1992.
Outside the Museum of Natural History, a short walkway to the Children's Museum passes an iguana display and crosses a 15,000-gallon saltwater Tropical Lagoon containing varieties of local reef fish. The backdrop for the lagoon is an incredible mural by the famous environmental artist, Wyland. The wall is #27 in a series of 100 murals Wyland has pledged to complete to increase awareness of whales and marine life. There's also a supervised marine life introduction tank that allows children to touch harmless marine animals.
The small Children's Museum building is a Flagler-era cottage moved to the site in 1992. For a smaller kid there's an interactive pirate vessel, Los Ninos de Los Cayos, complete with cannon, wheel, skeletons, and treasure. There's even a chest of pirate clothes for the kids to dress up in. One of the largest shell collections on public display is also on exhibit.
Once the inside touring is over, the site offers a system of short nature trails that wind through the hardwood hammock and end at a fantastic view of Florida Bay. Check to be sure that you have insect repellant before heading out. You may also wish to carry water and a snack.
While in the hammock, watch for endangered white-crowned pigeons, which resemble domestic pigeons but have distinct white crowns and longer tails. They eat the fruit from many of the hammock plants, including pigeon plum and poisonwood.
You might also see white ibis, little green herons, little blue herons, black-whiskered vireos, American kestrels, broad-winged hawks, a Florida box turtle (Terrapene carolina), mangrove cuckoos, raccoons, Florida tree snails, mangrove skippers (Phocides pigmallon), and even an occasional alligator around the pond.
Also watch for the peeling red bark of a gumbo limbo tree, and the barbed-wire cactus, which has climbing branches that can reach 15 feet and produces a white and yellow flower that only blooms at night. Look also look for Spanish stopper, a small evergreen plant that can grow as a shrub or a tree and has dark-colored fruit favored by many of the hammock's birds. All three plants are native to South Florida, the Florida Keys, and the West Indies.
This bayside property in the heart of Marathon was purchased by Francis and Mary Crane, who came to the Keys from Massachusetts in the late 1940s. Dedicated conservationists, the Cranes carefully built their own home in a way that preserved the tropical hammock. Today the land is owned by the Florida Keys Land and Sea Trust, a nonprofit, private conservation organization.
Another site along the trail is an important part of the property—an early 1900s Bahamas House. The Adderley Village Historical Site protects the location of a small settlement created by Bahamian immigrants in 1903. For a while, the village was the home of about 20 families.
The Adderley house, built by George Adderley, is the only structure remaining. The walls were constructed of tabby, a concretelike material consisting mainly of ground conch shells, which was used frequently for building by early Bahamian settlers in the Keys. It's believed to be one of the oldest houses in the Keys and has been placed on the National Register of Historic Places.
The simple white house with blue shutters stands as a somewhat incongruous structure surrounded by the junglelike vegetation. But it's also easy to imagine busy family members, tending to their garden and livestock in between fishing and hunting and gathering wild foods.
Past the Adderley house, the nature trail winds along beautiful Florida Bay. Dark blue waters close to shore are bordered by a deeper green band offshore. White buoys reveal the location of crab traps. Also on the trail is the Marathon Wild Bird Rescue, where visitors can observe injured birds in their rehabilitation environment.
The trail ends where a short bridge crosses the opening to a small saltwater lagoon that's full of sea life. This is one of the places you'll need a pair of polarized sunglasses to see all the life beneath the surface.
A maroon-colored nurse shark swims slowly by. In the clear water you can see crabs, sea anemones, schools of baitfish, and small groups of blue and red parrotfish. In the clear water flowing underneath the bridge look for nearly motionless mangrove snapper.
The longer you stay the more you'll see. It's a gorgeous spot—a great place to sit for awhile, have a snack, and just take in the scene. In addition to the lagoon, the peaceful surroundings present a panoramic view of Florida Bay and a number of small mangrove islands. But be careful, time (which is a tenuous thing in the Keys anyway) may seem to actually stop while you're there.
Directions: MM 50.5 Bayside in Marathon.
Activities: Hiking, educational programs.
Facilities: Gift shop, nature trail, displays.
Dates: Open daily year-round. Hours vary seasonally.
Fees: One admission charge gives access to both museums, seasonal presentations, and trail system.
Closest town: Marathon.
For more information: Tropical Crane Point Hammock, 5550 Overseas Highway, Marathon, FL 33050. Phone (305) 7439100. Fax (305) 7430429.
Pigeon Key
[Fig. 6] Pigeon Key, a historical visitor site, is a 5-acre island that lies between the new Seven Mile Bridge and the old Seven Mile Bridge. The old bridge connects to Pigeon Key by way of a short ramp that turns off the bridge 2 miles from the mainland. The new bridge bypasses the little island but does provide a scenic view of swaying palm trees and historic buildings.
The small island teemed with activity between 1908 and 1912, when it was the construction camp for the original railroad bridge. At the island's peak of activity, more than 400 workers lived in hastily constructed bunkhouse buildings and tent communities.
When the bridge was completed, the buildings were taken down and used elsewhere on the line. A more permanent village that appeared much as it does today was built between 1912 and 1920 to house bridge tenders and maintenance workers. When the railroad was converted into a highway, the turn down the ramp onto Pigeon Key was the only break in the guardrail of the Seven Mile bridge.
The Pigeon Key Foundation, based in Marathon, is restoring and maintaining about a dozen buildings as part of the Pigeon Key National Historic District. A motorized tram takes visitors over the old bridge to the village from the visitor center on Knights Key (MM 48 Oceanside) about every hour. You're also free to walk, roller skate, roller blade, or ride your bike, but no auto traffic is allowed on the old bridge. It's 2 miles out to Pigeon Key from the visitor center.
On the island, volunteer guides are sometimes on hand to lead tours, but more often, visitors enjoy self-guided exploration. The tram lets passengers off at the Old Section Gang Quarters. One of two remaining buildings from the 1908 to 1912 era, the Section Gang Quarters became a dormitory and dining hall for maintenance workers after 1912. A video tells Flagler's rags-to-riches story and the history of the railroad. The building's 1,800-square-foot former dining hall is now a meeting room for young people taking part in environmental workshops offered by the Pigeon Key Foundation.
The Assistant Bridge Tender's House houses the Pigeon Key Museum. Many of the artifacts on display were retrieved from the trash and garbage thrown into the water during the bridge construction.
The Bridge Tender's House is said by some to be haunted by the wife of the bridge tender. She was reportedly having an affair with an assistant bridge tender—an almost risk-free matter in those days because husbands traveled to work over the railroad trestle in noisy gasoline-powered handcars that could be easily heard in plenty of time for all parties to return to their proper places.
All the same, the lady in question was apparently so guilt-ridden she committed suicide by hanging herself from a rafter on the second floor of the house. Her weeping and wailing spirit is reportedly heard by students using the house as a dormitory.
The Mote Marine Laboratory (off-limits to visitors), a yellow house with an adjacent covered area of white tanks, is conducting research with live coral for possible use in bone transplants and artificial eyes and as possible cures for cancer, arthritis, and other diseases.
Researchers say replacing damaged and diseased bones with coral seems particularly promising as an alternative to taking pieces of a patient's hip bone. In Europe, the skeletons of certain species of coral have been used successfully. Pharmaceutical companies in the United States have begun the same procedures used in Europe.
The Negro Quarters formerly housed cooks and other black workers. Now a dormitory for educational programs, the small house is one of the southernmost points on the National Black Heritage Trail.
While walking the grounds, stop and look up under the old Seven Mile Bridge. The blue metal spans are part of the original railroad bridge built nearly 100 years old. As trains slowly crossed the narrow bridge, passengers could have imagined themselves floating on air when they looked down and saw nothing but blue-green water far below them.
Directions: Visitors can see the island on guided and self-guided tours that begin at the Pigeon Key Visitor Center located in a red and silver railroad car on the Overseas Highway at Knights Key, MM 47. Books about Pigeon Key's role in the construction of the railroad are on sale.
Activities: Historical tour.
Dates: Open daily year-round. The tram is closed on Mondays during the summer.
Fees: There is a charge for the tram ride and the village tour.
Closest town: Marathon is 2 miles to the north.
For more information: Dave Whitney, Executive Director, Pigeon Key Foundation, PO Box 500130, Marathon, FL 33050. Phone (305) 289-0025. Pigeon Key Visitor Center, phone (305) 743-5999. Education Center, phone (305) 289-9632. Web site www.pigeonkey.org
The Seven Mile Bridge
[Fig. 6] If you saw the 1990s movie True Lies, you'll recognize the Seven Mile Bridge as the site of the climatic scene where Jamie Lee Curtis is pulled from a runaway limousine, and the bad guys are blown up with missiles launched from British Harriers. Actually, Arnold Schwarzenegger and company didn't really blow up the Seven Mile Bridge. If the catastrophic Labor Day hurricane of 1935 couldn't destroy it, the bridge can withstand a few computer-generated missile strikes as well.
Including its approaches, the largest segmented bridge in the world spans 9 miles from Knights Key to Bahia Honda Channel. The views of the Atlantic Ocean and Gulf of Mexico on either side are so beguiling, you may be tempted to stop and take a picture. Please don't.
Henry Flagler was already 75 years old when preliminary construction began in 1906 on this incredible engineering feat that would giant-step his railroad toward Key West. The project was divided into four parts. The first three segments were constructed of steel-girder sections anchored on top of 550 concrete foundation piers connected to bedrock nearly 30 feet underwater. The fourth segment, a swinging 255-foot-long span, enabled boat traffic to pass unhindered between the Atlantic and the Gulf of Mexico.
Flagler's engineers intended the bridge to withstand anything that nature could throw at it. Devastating hurricanes in 1906 and 1909 took a terrible toll of human life and wiped out part of the ongoing work. But despite the setbacks, and the problems with plagues of mosquitoes, fever, heat, and drought, the work proceeded.
Five years after the first pilings were laid, the Seven Mile Bridge—the costliest in the system—was opened to the first trains. The "Railroad That Went to Sea" finally reached Key West in January 1912.
In 1936, a year after final rites were said over "The Railroad that Died at Sea," the State of Florida began converting the defunct railway into the Overseas Highway.
I-beams widened the bridge from 14 feet to 22 feet and many of the old iron tracks were put back to use as highway guardrails. The revamped bridge stayed in service until 1982, when a higher, wider, more modern bridge was opened.
The 65-foot-high span over Moser Channel is one of the finest scenic views in the Keys for everyone but the driver. Like many other Keys bridges, the old bridge has been put to use as a fishing pier and recreational trail.
Here's a way to get a good look at the scenery on the bridge. Every April over 1,000 runners participate in the Seven Mile Bridge Run on the new bridge. Entries are limited and US 1 is closed for the event. For more information on the run call (305) 743-8513.
Directions: MM 47 through 40.
Activities: Fishing, hiking, biking, walking on old bridge.
Dates: Open year-round.
Fees: None.
Closest town: Marathon is 2 miles north of Knights Key.