The Middle Florida Keys
The Middle Keys, as their name implies, are in the middle of the Keys' chain. They include Conch Key, Duck Key, Grassy Key, Boot Key, Vaca Key, Key Colony Beach, and Pigeon Key at the north of the Seven Mile Bridge. The entire area is considered part of the unincorporated City of Marathon, which has the geographically truthful motto, "Heart of the Keys." (For more information on the natural and human history of the Keys, see the introduction to the Upper Florida Keys.)
[Fig. 6] Marathon's midway location makes it a convenient base for exploring the rest of the Keys. No key or attraction is more than an hour's drive away. But with a full realm of keys-type activities right at your doorstep, you may not want to leave the area.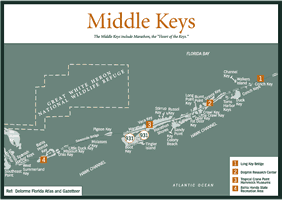 With 12,000 residents spread along both sides of the Overseas Highway between MM 50 and 65, Marathon is the third most populous community in the Keys after Key West and Key Largo. Nevertheless, for all its outwardly urban appearance—large shopping centers, fast-food outlets, golf courses, a commercial airport next to US 1, motels, restaurants, subdivisions, and busy traffic—it provides every quality experience the Keys can offer.
Marathon also features a selection of self-contained resorts—places that have everything you need for a Keys vacation on the premises. Resorts on the Atlantic side often have fishing piers and white, sandy beaches, while those on the Gulf of Mexico offer marinas with an array of water sports opportunities. Your choice also depends on whether you want to watch the sunrise over the Gulf of Mexico or the sunset over the Atlantic.
The Marathon area was settled more than 500 years ago by Indian tribes. Spanish explorers in the 1500s called it Key Vaca, for the manatees, or sea cows, that were plentiful in this part of the Middle Keys. Vaca is the Spanish word for cow. In the eighteenth and early nineteenth centuries, the small islands were a haven for pirates, who used them as a base for plundering merchant vessels in the Atlantic and Gulf of Mexico.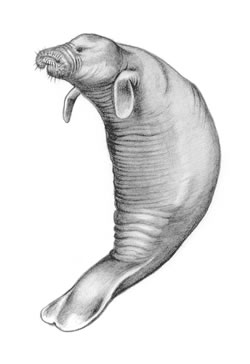 Marathon's modern history began in the early 1900s railroad era, when the area was a central supply depot for construction of the Seven Mile Bridge. Some say the community got its name from a weary construction worker, who griped that building the railroad had become a never-ending marathon.
Perhaps a more plausible source for the name was American playwright and poet Witter Bynner. During an early 1900s yachting trip in the Keys with a Florida East Coast Railroad official, Bynner quoted a passage written by Lord Byron during his idyll in Greece: "The mountains look on Marathon, and Marathon looks on the sea." Lord Byron would have been hard-pressed to conjure any mountains hereabouts, but he'd very likely have been mesmerized by the beauty of the tropical seas.
After the Seven Mile Bridge was completed in 1912, some members of the railroad crew remained as maintenance workers and fishermen. Nowadays, Marathon is a popular year-round sport-fishing destination for anglers seeking inshore and offshore action. To accommodate any fishing interests, the area boasts a large fleet of charter boats, party boats, and backcountry guides.
Tarpon have become one of the most popular angling attractions both for anglers and spectators. Big silver kings averaging between 50 and 80 pounds are caught in the passes beneath the Seven Mile Bridge, Bahia Honda Bridge, and Long Key Bridge. For a treat, visit the east end of the Seven Mile Bridge one evening. Not only will you enjoy a beautiful sunset, but chances are you'll also see tarpon, drawn by the swirling currents caused by the bridge pilings, feeding and crashing into schools of baitfish in their evening feeding frenzy.
Marathon also offers miles of oceanside flats fishing where bonefish and even the more wily permit are found in the gin-clear waters. In the spring large tarpon invade the flats, creating fantastic sight-fishing opportunities on light-tackle. A number of guides also specialize in backcountry fishing north into Florida Bay and Everglades National Park, all the way to Cape Sable, for redfish, snook, seatrout, and (smaller) tarpon.
Reef fishing near Marathon is similar to other parts of the Keys, with party boats scoring on grouper, snapper, Spanish mackerel, and king mackerel. What the area does boast, however, is a large number of artificial reefs created from dismantled bridges and sunken barges. The deep-water artificial reefs tend to attract greater numbers of amberjack (Seriola dumerili) and barracuda, in addition to the regular array of bottom fish.
The waters on the Gulf of Mexico side of Marathon are much deeper and more open than those of its eastern neighbor Islamorada. A series of natural ledges and artificial reefs extend from the island for 15 miles. Similar to the Atlantic side, bottom fishing is productive for grouper, snapper, and on occasion, cobia.
Marathon also hosts a number of charter boats that specialize in long-range trips out to wreck sites in deep water. The deep-water bottom structure produces large grouper, cobia, mangrove (gray) snapper, and permit. A large freshwater spring known as Blue Hole is found 47 miles into the Gulf of Mexico, where it sits in the bottom of a hole 100 feet deeper than the surrounding bottom. The area supports excellent bottom fishing for grouper and snapper and attracts a large number of tarpon, but the spring is most renowned for offering fishermen the chance to catch giant permit in the 20- to 30-pound range.
The Atlantic side has its own unique attraction. The Marathon West Hump rises from depths of 1,100 feet to a peak 480 feet below the surface. The structure sits squarely in the Gulf Stream, and attracts such targeted game fish as blue and white marlin (Tetrapturus albidus), mako shark, blackfin tuna (Thunnus atlanticus), and amberjack. Great white sharks weighing more than 1,000 pounds have been caught here in past years.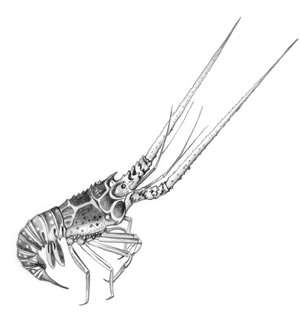 Diving opportunities are as varied as the fishing in Marathon. Coral reefs abound in the area and are easily accessible to both snorkelers and divers. The most popular destination is Sombrero Reef where towering coral fingers or "spurs" rise up from the 25-foot depths. Known as a "spur and groove" reef system, the grooves are parallel channels of reef.
Sombrero Reef sits about 4 miles offshore (about a 30-minute boat ride out of Marathon) and is marked by the antique Sombrero Reef Light, a tower that straddles some of the more dramatic coral formations. Snorkelers can drift along in the clear water and get a bird's eye view of multihued parrotfish, angelfish, yellowtail snapper, jacks, and clouds of sergeant majors swimming among the red, yellow, and green coral formations and the decorative, branching soft corals and sponges. Divers will be able to peer at eye level into nooks and crannies where lobsters, crabs, and maybe even a grouper will be peering back at them.
Many of the dive shops can provide quick and safe diving courses that will get you out on the reef the same day. They'll also provide snorkeling advice and rental equipment. A vast number of dive and snorkel tours are available from the area's dive shops and resorts. Glassbottom boats are also available for drier trips to the reefs. They still provide an excellent opportunity to clearly see the reef and its inhabitants.
Between the main line of coral reefs and Marathon's shore are a number of patch reefs too numerous to count. Each patch nurtures its own family of fish, shells, crabs, and corals. Should you meet a reclusive lobster, don't take it home to dinner unless it's in season.
Wreck diving is also popular in the waters surrounding Marathon where there are more than 50 sites to choose from, including sunken Spanish treasure ships and the 189-foot research vessel Thunderbolt, which was intentionally sunk in 120 feet of water. With the doors, hatches, and windows removed, divers are free to swim through and explore the five-story ship and see the community of sea life that has been established.
Bird watchers staying in Marathon will be rewarded for exploring even the developed parts of Marathon. Scissor-tailed flycatchers (Tyrannus forficatus) and western kingbirds (Tyrannus verticalis) can often be seen on the power lines along US 1 in the late fall, winter, and early spring. The section of highway next to the airport can be the most rewarding.
Burrowing owls (Athene cunicularia) nest on the fairways of the Sombrero Country Club and on hot days can often be seen in trees along the road next to the course. Turn left at MM 50 onto CR 931. The road passes the country club and ends at Sombrero Beach Park. Burrowing owls also nest in the park.
Black-necked stilts (Himantopus mexicanus) and reddish egrets (Egretta rufescens) can be seen among other wading birds in the winter around a series of brackish ponds in the Lake Edna area of Grassy Key. You might also spot an American avocet (Recurvirostra americana) in the summer. Turn toward the bayside at MM 57.8 on Peachtree Avenue to reach the ponds.
Boot Key near the southern end of Marathon is one of the best spots in the Keys to see raptors in the fall when the Keys become a bottleneck for migrating birds. Turn toward the Atlantic at MM 48.1 onto CR 931. Peregrine falcons and merlins (Falco columbarius) are common in the Australian pines along the road from mid-September into November. In 1995, scientists documented a higher concentration of migrating peregrine falcons here than anywhere else on the Eastern seaboard, except Cape May, New Jersey. American kestrels (Falco sparverius), northern harriers (Circus cyaneus), sharp-shinned hawks (Accipiter striatus), and broad-winged hawks (Buteo platypterus) are sometimes reported in large numbers.
A gathering of wading and diving birds that includes brown pelicans, double-crested cormorants, and great white herons can be seen near the east end of the old Seven Mile Bridge. Pull off the road near the end of the old bridge and look back toward the mangroves.
For more information: Marathon Chamber of Commerce, 12222 Overseas Highway, Marathon, FL 33050. Phone (800) 262-7284 or (305) 743-5417. MM 53.5 Bayside. The chamber of commerce has a current list of guides, charter boats, dive boat operators, resorts, and motels. Also see Appendix D, page 296 for marina and dive center information. Public boat ramps are located at MM 49 Bayside and MM 54 Bayside. The Marathon Airport has regularly scheduled commercial flights from Miami.