Sea Island
[Fig. 19, Fig. 20] Guarding St. Simons to the east is Sea Island, a thin Holocene barrier island that serves as a resort and home for the rich. Founded in the Roaring Twenties by Sea Island Company owners Howard Coffin and Alfred (Bill) Jones Sr., the island boasts a world-famous resort, The Cloister Hotel, and a resident community of grand estates with carefully manicured lawns and gardens. The public is allowed to drive the public roads of the island and take a stroll through the hotel, but access to the beach is unfortunately limited to residents and guests. However, if you can afford to stay at The Cloister Hotel, the world is indeed your oyster, with 54 holes of golf, 17 tennis courts, a spa, two pools, four restaurants, horseback riding, shooting school, sailing, biking, nature tours, dance lessons, scuba lessons, surf and deep-sea fishing, and 4.5 miles of beach offered for your pleasure.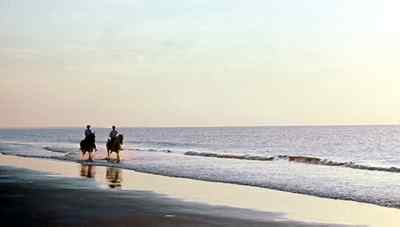 Sea Island, 5 miles long by 2 miles wide (including marsh), consists of 2,000 acres of marsh, dunes, beach, and developed maritime forest, of which roughly 750 acres are uplands. To the west of the island is extensive salt marsh fed by the Black Banks River, which flows to the ocean at Gould's Inlet at the southern end, and Village Creek, which flows out to the Hampton River, which separates Sea Island's northern end from Little St. Simons Island. The vegetation on the island is a carefully tended combination of introduced and native species, including some ancient Live Oaks and pines. The north end is the site of Ocean Forest Golf Club. The south end is the only area left in a relatively natural state. At the extreme north end are a series of old dune ridges and accompanying lowlands made up of brackish marshes and bogs. Migrating sands have created a sandy shoal that extends eastwardly and Pelican Spit, an important haven for migrating birds including terns, pelicans, and avocets. In 1846, English geologist Sir Charles Lyell found 30 varieties of shells, which is still possible to do today. The southern end of the island is a recurved spit that continues to grow toward St. Simons and has developed a narrow shrub zone and extensive interdune meadow. Gould's Inlet at the southern end is an excellent bird-watching site (see Gould's Inlet). Sea Island is also a favorite nesting site for threatened loggerhead turtles, with a 10-year average of 66 nests a year, almost twice as many as Little St. Simons Island to the north.
The island was relatively untouched wilderness when the Sea Island Company purchased it. The first to own Sea Island was James Mackay, a soldier who fought alongside Oglethorpe in his Florida campaign and Battle of Bloody Marsh, and commander of Fort Frederica. After his death, Fifth Creek Island, as it was known, passed through the hands of several of St. Simons plantation owners, including James Hamilton and James Couper. Couper raised cattle here and used it as a hunting retreat. In the 1920s, a group of businessmen bought the island from heirs and subdivided it, hoping to start a beach development. They in turn sold it to a Brunswick group, which sold it to Howard Coffin for $349,485.17 on July 15, 1926.
Sea Island and The Cloister are the brainchild of business geniuses Howard Coffin and his young cousin, Alfred W. (Bill) Jones Sr. The Sea Island Company is not only the biggest developer of Sea Island but St. Simons as well, with two golf courses and new construction on Hawkins Island and several thousand acres on the northern end of the island at Cannon's Point and Taylor's Fish Camp. Coffin and Jones have had a tremendous impact on the Georgia coast, with Coffin's influence ending with his death in the 1930s and Jones's influence continuing to this day as his son and grandson continue his legacy of conservation and wise development.
Coffin made millions as chief engineer at the Hudson Motor Company in Detroit in the early 1900s, and while attending an automobile race in Savannah fell in love with the Georgia coast. He first purchased and developed Sapelo Island as a hunting preserve, cattle ranch, and seafood cannery (see Sapelo Island). He became interested in St. Simons Island as a resort area after a causeway was built to the island in 1924. In 1926, Coffin purchased a portion of Retreat Plantation and started exploring Long Island, which he purchased, renamed Glynn Isle then Sea Island, and began developing an exclusive resort. At the time the resort was built, the island lacked electricity, water, and telephone service.
Coffin was a visionary developer. He would conceive a project, draw up the plans, arrange for financing, and then turn it over to the energetic Bill Jones, who would make it happen. To design The Cloister, Coffin hired famous Palm Beach architect Addison Mizner, who designed the hotel in a Spanish-Mediterranean style. It opened on October 12, 1928. With the death of Coffin's beloved wife Matilda, the stock market crash of 1929, and the following Great Depression, Coffin was forced to sell his Sapelo Island assets to R.J. Reynolds Jr. to hold onto Sea Island. In the 1930s, Coffin spent much of his time trying to keep his empire together. Depressed and in poor health, Coffin killed himself with a rifle in 1937. He was buried with Matilda in Christ Church Cemetery.
Bill Jones was left to struggle for the survival of Sea Island, which after much sacrifice and hard work turned a profit for the first time in 1941, and became one of the few five-star resorts in America. (For the complete story, read This Happy Isle by Harold H. Martin.) The list of famous people who have visited and vacationed at the resort is long and illustrious and includes U.S. Presidents Coolidge, Hoover, Eisenhower, Ford, and Carter. George Bush honeymooned there, as have 36,000 other couples. The asphalt spine of the island, Sea Island Drive, divides 36 blocks of spectacular homes.
Perhaps more important than Jones's creation of Sea Island was his influence through a variety of philanthropic and business dealings in the preservation of many other coastal areas of natural and historic importance. One could say his fingerprints are on Jekyll Island, Sapelo Island National Estuarine Sanctuary, and Fort King George. On St. Simons, he was responsible for the preservation of Fort Frederica and Retreat Plantation and its Avenue of Oaks, and was involved in the creation of Massengale Park and Epworth By The Sea, selling the property to the Methodist Conference for a bargain price. The Sea Island Company also donated the land for McKinnon Airport and the St. Simons sewage treatment plant. Jones also was instrumental in the creation of Cumberland Island National Seashore, persuading the Mellon Foundation to provide $7.5 million for the purchase of major tracts of Cumberland, which had fallen into the hands of the developer of Hilton Head. No fewer than seven churches on St. Simons have benefited from Jones's donations of land on which to build.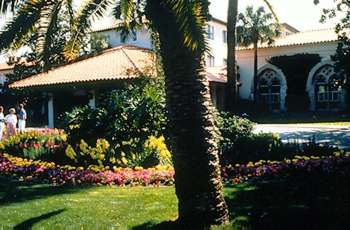 The Cloister has some peculiarities that make it distinctive, such as dress codes for its dining rooms and tennis courts. This isn't the place to walk through the lobby in dripping wet swim trunks. Besides, you never know who you might meet—perhaps a famous movie star, artist, or politician.
Directions: From Brunswick, cross F.J. Torras Causeway. Go left on Demere Road. Follow Demere to Sea Island Road on left. Go left on Sea Island Road and follow road to island.
Activities: The public is limited to sight-seeing from Sea Island's public roads. Guests of The Cloister have a full range of activities available to them, including golf, tennis, swimming, biking, sailing, kayaking, fishing, horseback riding, shooting school, beachcombing, and nature study.
Dates: The Cloister and island are open to the public daily. Beaches closed to general public.
Facilities: The Cloister offers 286 rooms, 4 restaurants, 3 golf courses (36-hole Sea Island Golf Club, 18-hole St. Simons Island Club), 17 tennis courts, a spa and health club, 2 pools, sea kayaks, a skeet shooting course, bikes, and riding stables. Lessons offered in golf, tennis, riding, fishing, sailing, shooting, and dancing. Nature tours are also offered.
Fees: Call (800) SEA-ISLA or (912) 638-3611 for rates. The Cloister accepts most major credit cards.
Closest town: Sea Island.
For more information: The Cloister, Sea Island, GA 31561. www.seaisland.com Phone (800) SEA-ISLA or (912) 638-3611. For private and cottage rentals call Sea Island Cottage Rentals, phone (912) 638-5112.
Dining on Sea Island
The Cloister Main Dining Room is almost as famous as the resort, serving classic five-course dinners with an emphasis on the freshest local seafood, along with black angus beef, lamb, and veal. Jacket and tie is required. Expensive. (912) 638-5111.
---
Read and add comments about this page
---
Reader-Contributed Links to the Georgia Coast and Okefenokee Book: