Crooked River State Park
[Fig. 18(5), Fig. (22(5)] Crooked River is a 500-acre state park that is popular for saltwater fishing, boating, and camping. Fishermen try their luck for speckled trout, channel bass, sheepshead, drum, and striped bass in the Crooked River, or navigate 8 miles downstream to the Cumberland Sound. The less ambitious can fish, crab, or shrimp from the dock. Naturalists looking for a place to relax before riding the ferry to Cumberland Island may want to consider this well-equipped state park, that features 60 tent, trailer, and RV sites, 11 cottages, along with a swimming pool, miniature golf, playground, and nature trail for antsy youngsters. Hikers can explore the roughly 2-miles of nature trails, which wind through a mix of natural communities including pine-palmetto, live-oak hammock, and marsh that support a variety of wildlife. Birding is good here, and the park is on the Colonial Coast Birding Trail. Picnic sites offer a refreshing panorama of the marsh and river, where wildlife is observed performing their prehistoric roles in the rich estuarine zone. Motionless blue herons stalk marine life in shallower waters, and bottlenosed dolphins hunt the deeper currents for menhaden. A historic site located on the approach to the park boasts the oldest industrial ruins in the state.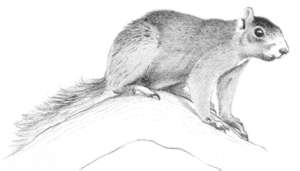 Two nature trails begin as one near cottage 11, then split into two loops, each with its own distinct natural environment. A spur trail off one trail leads into marsh. Both coastal and woodland species of birds may be observed on the trails. From the trailhead, hikers walk through a mixed oak community with palmetto, bracken ferns, and wax myrtle. A sign pointing to the left marks the Sempervirens Trail, which leads into a mature live oak maritime forest, with Spanish moss, palmetto, wax myrtle, and muscadine. (Sempervirens is Latin for "everliving.") Large magnolias are evident, as well as occasional hickory, sweet gum, and pine. During summer, painted buntings and Eastern blue birds are seen in this subtropical broadleaf forest.
A spur off this loop leads to the Spartina coastal marsh, where marsh and wading birds such as clapper rails, blue herons, and great egrets may be observed on the ground, and gulls, terns, and osprey are spotted in the air. Deer, squirrels, and armadillos are the most common mammals, but quiet observers may spot a feral hog, bobcat, or fox.
The second nature trail, the Palmetto Trail, loops off the first and winds back to the trailhead, exposing hikers to a second type of coastal forest comprising southern pine and palmetto. Longleaf pine forests once covered the Coastal Plain of the southeastern U.S., but logging and fire suppression removed this predominant, fire-dependent ecosystem, which today is found only in a few relictual patches. This part of the park is not a pure example of that natural environment. Longleaf and slash pine are the dominant trees, and palmetto grows profusely in the understory. Fox squirrels, which prefer longleaf pine forests, are seen in this area, as well as threatened gopher tortoises that dig burrows in the sandy soil. If you hear a loud rustling sound in the palmetto thickets, it's probably an armadillo, an animal that has expanded its range into Georgia from Florida. White-tailed deer are also very common.
Located approximately 3 miles from the gate of the park on Spur 40 are the John H. McIntosh Tabby Sugar Works ruins. John Houstoun McIntosh, born in 1773 in McIntosh County, was greatly influenced by agrarian genius Thomas Spalding of Sapelo Island, and he established two plantations in Camden County to grow sugar cane, the most famous being New Canaan. He built the mill in 1825, and it was called the first horizontal sugar mill worked by cattle. After his death, the plantation was sold to Colonel Hallowes, who changed the plantation's name to Bollingbrook. He continued sugar production, and also used the mill as a starch factory during the Civil War.
Trails: The 1.5-mile Palmetto Trail and 0.5-mile Sempervirens Nature Trail are connecting loops, leading from cottage 11.
Directions: I-95 to Exit 2/3. Go east on GA 40 approximately 4 miles. Turn left at Kings Bay Road. Proceed 4 miles to Kings Bay Submarine Base. Turn left at base entrance onto Spur 40 and proceed 2.5 miles to park entrance.
Activities: Fishing, boating, camping (primitive, intermediate, recreational vehicle), hiking, picnicking, shrimping, crabbing, canoeing, biking, miniature golf, nature study, historical touring, guided tours by prior arrangement.
Facilities: Boat ramp and fishing dock, 60 combination tent, trailer, and RV sites, full hookups, picnic tables, grills. 2 comfort stations with showers, toilets, electrical outlets, and laundry. 11 cottages with kitchens, fireplaces, heat and air conditioning. (Visitors may want to ask for one of the cottages that are located on the bluff overlooking the river.) Pioneer campground for organized groups and scouts. 5 picnic shelters and 1 group shelter. Historic site (sugar mill ruins), swimming pool, miniature golf, playground.
Dates: Open 7 days a week 7 a.m.–10 p.m.
Fees: Separate fees for camping, cottages, and pool. Parking fee for all vehicles. Call for fees: (912) 882-5256. Camping reservations 30 days in advance; cottage reservations maximum 11 months in advance, recommended 60 days in advance. Phone (912) 882-5256.
Closest town: St. Marys.
For more information: Crooked River State Park, Georgia Department of Natural Resources, 3092 Spur 40, St. Marys, GA 31558. Phone (912) 882-5256. Reservations: Phone (800) 864-7275.
---
Read and add comments about this page
---
Reader-Contributed Links to the Georgia Coast and Okefenokee Book: