Sherpa Guides > Civil War > Sidebars > U.S. Gen. William T. Sherman & Sherman's March To The Sea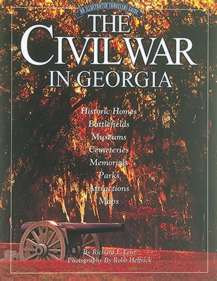 Buy the Book from Amazon.com or send us an email with your contact information if you'd like to purchase a signed copy of the book directly from the author.
U.S. Gen. William T. Sherman
William Tecumseh Sherman is one of the most famous generals in history, and one of the most hated in the South. The son of an Ohio Supreme Court Justice, Sherman was born in Lancaster, Ohio, orphaned at nine and raised by a wealthy friend of his father's, Sen. Thomas Ewing, Sr. (His younger brother, John, was also adopted and became a U.S. Senator.) He attended a local academy in preparation for West Point, where he graduated sixth in his class in 1840. He married his adoptive parents' daughter, Ellen, and served in Florida and California during the Mexican War, seeing limited action. Frustrated and bored in the U.S. Army, he resigned and became a banker in San Francisco in 1853. When his bank failed, he turned to law and lost his only case. Thanks to several Army friends, among them Confederate generals-to-be Braxton Bragg and P.G.T. Beauregard, he was appointed to superintendent of the newly established Louisiana Military Academy (now Louisiana State University) in 1859, where he was successful, if only briefly. Here he witnessed the secession movement first hand, which he viewed with dismay. He was offered a Confederate commission, which he refused, and at the outbreak of war he rejoined the U.S. Army. At First Manassas or Bull Run, Sherman had his first battle experience and commanded one of the few brigades that performed well that day. He was promoted to brigadier general and placed in charge of Union forces in Kentucky. Here he suffered a nervous breakdown and was sent home to rest. When newspapers published a story titled, "General William T. Sherman Insane," Sherman, ashamed and disgraced, considered suicide, but didn't out of consideration to his children. In February 1862, he was assigned to lead a division in the Army of the Tennessee, serving under Gen. U.S. Grant. Grant and Sherman would become best friends and the Army of the Tennessee would become the most successful on the Union side. Grant helped stabilize the brilliant and erratic Sherman, while Sherman helped Grant through rocky times as well. Sherman helped Grant capture Vicksburg and Chattanooga. After Chattanooga, Grant was promoted to the overall command of the entire Union Army and he promoted Sherman to command of the Western Theater. Sherman and Grant developed the strategy which would finish the War, with each simultaneously attacking one of the two main armies of their enemy. Sherman dueled with Confederate Gen. Joseph Johnston and then Confederate Gen.John Bell Hood during Atlanta Campaign in a campaign of maneuver, ending with the fall of Atlanta on Sept. 2, 1864. From here, his 60,000-man army went on its famous and controversial "March to the Sea," a punishing, destructive campaign through the heart of Georgia to Savannah, where Sherman could resupply his troops from the sea and march to help Grant with Lee. "I can make Georgia howl," Sherman wrote Grant. It took approximately a month to march from Atlanta and capture Savannah. After a six-week rest in Savannah, he conducted the Carolinas Campaign, a more difficult and destructive march through the heartland of the Secession Movement. On April 26, 1865, at Durham Station, North Carolina, Sherman received the Army of Tennessee's surrender from Johnston, effectively the end of the war. Ironically, the generous terms he granted to the surrendering rebels outraged Federal politicians, who harshly censured him. In 1869, he was made commander-in-chief of the U.S. Army, where he oversaw the completion of the transcontinental railroad and the defeat of the Plains Indian tribes. He hated politics and rebuffed all attempts to draft him as a candidate for the Republican Party. "If nominated I will not accept. If elected I will not serve," he said. In 1891, he died of pneumonia at 71. His old adversary, Joe Johnston, helped carry his casket, and died of pneumonia not long after he had stood bareheaded in the rain at Sherman's funeral.
Sherman's March To The Sea
Union Gen. William Tecumseh Sherman's "March to the Sea" is one of the most famous events in the annals of war. Much has been written about his Savannah Campaign, some acclaiming his brilliant military strategy, others denouncing his ruthless tactics. Sherman wanted to bring the war home to Georgians in harsh terms, proving that the Confederacy couldn't protect its citizens. He also thought that pressure on the home front might lead to desertions on the front lines of the Confederacy, as soldiers learned that their loved ones and property were threatened. Sherman's treatment of defenseless civilians and their private property is legendary, and his "March to the Sea" is frequently described as a "60-mile wide path of utter destruction" in history books, which is somewhat exaggerated if one has seen the beautiful antebellum homes in Madison, Covington, Milledgeville, and other towns on the route. Popularized in song and verse, an abundance of material exists on the March, written mostly from the Northern point of view. Northerners believe it was bold and effective stroke against the Southern foe; Southerners believed his destruction of private property was unnecessary and cruel; and that the March was successful only due to a lack of organized opposition. For Sherman — the man who said, "War is all Hell" — his style of warfare was a military issue, not a moral one: "This may seem a hard species of warfare, but it brings the sad realities of war home to those who have been directly or indirectly instrumental in involving us in its attendant calamities," he said. For Sherman it was a type of rear attack, not on the army of the enemy but the people of the enemy. Some historians believe the most important military advances from the Civil War came from Sherman, saying he invented modern warfare. Confederate Col. Charles Colcock Jones, who opposed Sherman under Lt. Gen. William J. Hardee, summed up the feelings of many Southerners when he wrote: "The conduct of Sherman's army and particularly of Kilpatrick's cavalry and the numerous parties swarming through the country in advance and on the flanks of the main columns during the march from Atlanta to the coast, is reprehensible in the extreme ... the Federals on every hand and at all points indulged in unwanton pillage, wasting and destroying what could not be used. Defenseless women and children and weak old men were not infrequently driven from their homes, their dwellings fired, and these noncombatants subjected to insult and privation. The inhabitants, white and black, were often robbed of their personal effects, were intimidated by threats — and occasionally were even hanged to the verge of strangulation to compel revelation of the places where money, plate and jewelry were buried, or plantation animals concealed, — horses, mules, cattle and hogs were either driven off, or were shot in the fields, or uselessly butchered in the pens." Today, it is not hard to find Georgians who have ugly family stories to tell from the days of Sherman's March, and still hold hard feelings.
If a traveler wanted to exactly follow Sherman's "March to the Sea," they would need an army tank and a lot of time, because Sherman's armies didn't take the interstate or travel together on the same single route. Splitting his army into four main columns, Sherman's men traveled on many different roads and bridges which don't exist today. They went through towns that are neither found on a map or on the ground. And towns have sprung up on his March route which didn't exist when his troops came through. The best you can do is approximate his journey and cover most of the ground over several trips. Compared to touring the Atlanta Campaign route, you get a lot fewer Civil War sites per mile on this tour, but you will get a feel for an older, original Georgia, which was an agrarian state consisting of small towns.
---
Read and add comments about this page
---
Reader-Contributed Links to the Civil War in Georgia Book: