Naples Area Attractions
At a cursory glance, this creature comfort capital of posh resorts, extravagant stores, splendid dining, and sparkling white beaches would seem incongruous with the Everglades and other wilderness areas nearby, but it's exactly those very amenities that make it an attractive base for venturing into the wilds. Corkscrew Swamp Sanctuary, Fakahatchee Strand State Preserve, Collier-Seminole State Park, and Briggs Nature Center are all just a short drive from five-star hotels.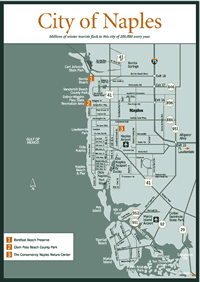 Everglades National Park's westernmost visitor center is less that an hour away in Everglades City. From there, day-trippers can explore the Ten Thousand Islands and the Everglades backcounty, or continue down the Tamiami Trail (US 41) to the Big Cypress National Preserve, Miccosukee Indian Cultural Center, and Shark Valley Observation Tower, and return to Naples in time for a walk on the beach before dinner.
Beaches
Tens of thousands of visitors trek annually to the Naples area with the sole purpose in mind of shedding their stress on more than 40 miles of Gulf of Mexico beaches. Two of the city's six public beaches are listed on the national survey of "Best American Public Beaches" by University of Maryland researcher Stephen Leatherman, a.k.a. "Dr. Beach."
Delnor-wiggins Pass State Recreation Area
[Fig. 19] Residents and visitors who flock to this 166-acre narrow barrier island, separated from the mainland by mangrove swamps and tidal creeks, understand why it's perennially among Leatherman's top 10 best beaches. Amenities include wide, clean stretches of sand, lifeguard stations, an observation tower, shaded picnic tables, barbecue grills, a pavilion, bathhouses with restrooms, changing areas, and showers.
The beach is an excellent place for shelling. Most facilities are wheelchair accessible. Fishermen can angle in the surf at Wiggins Pass on the park's north end. Pompano fishing during the cooler months has become popular in recent years as the species has rebounded. The bait of choice is sand fleas that you dig yourself at the beach or purchase from a bait store.
Bring your binoculars and you'll have a chance at seeing West Indian manatees, dolphins, ospreys, and egrets, herons, and other wading birds.
On Wednesday mornings from the first of December to the end of April, interpretive programs conducted by park rangers focus on endangered sea turtles and their nesting habits, native plants, marine mammals, beach habitats, shorebirds, and other environmental topics. Reservations are required for all programs.
Directions: 11100 Gulfshore Drive North, off Blue Bill. Off I-75, Exit 17 West.
Activities: Swimming, windsurfing, fishing, picnics, interpretive programs.
Facilities: Bathhouses with restrooms, changing areas, showers, barbecue grills, concession, observation tower, picnic tables, pavilion.
Dates: Open daily 8 a.m. to sunset.
Fees: There are admission charges per car and for walk-ins and bikers. No charge for those age 5 and under.
For more information: Delnor-Wiggins Pass State Recreation Area, 11100 Gulf Shore Drive, Naples, FL 33963. Phone (941) 597-6196.
Clam Pass Beach County Park
[Fig. 19(2)] Also among Leatherman's "best beaches," Clam Pass is accessed by a 10-foot-wide, 0.75 mile boardwalk through a mangrove swamp and by continuous free tram rides provided for all visitors. The Registry Resort operates the water sports equipment rental and snack bar concessions on the beach. The wide, clean beach has good surf and long stretches for walking and sunbathing. Canoe trips in the tidal creeks are a good opportunity to observe birds and other wildlife that live in the mangroves.
Directions: Off Seagate Drive, behind the Registry Resort.
Activities: Swimming, beach walking, windsurfing, canoeing, and fishing.
Facilities: Bathhouse with restrooms and showers, snack bars and water sports equipment and beach chair rentals.
Dates: Open daily sunrise to sunset.
Fees: None.
For more information: Collier County Parks and Recreation, 3300 Santa Barbara Boulevard, Naples, 34116. Phone (941) 353-0404.
Barefoot Beach Preserve
[Fig. 19(1)] The 342-acre preserve, on a barrier island in the Gulf of Mexico, has immaculate beaches, excellent surf, and an aquatic garden with lush vegetation and wildlife, including loggerhead sea turtles.
Directions: Access is from Bonito Beach Road (SR 865).
Activities: Swimming, other outdoor recreation.
Facilities: Beach, restrooms, and a picnic area.
Dates: Open daily sunrise to sunset.
Fees: None.
For more information: Collier County Parks and Recreation, 3300 Santa Barbara Boulevard, Naples, 34116. Phone (941) 353-0404.
Lowdermilk Park
[Fig. 19] The fully developed municipal park has 1,000 feet of Gulf beach. It's a typical Florida city beach with all the amenities that can draw a big crowd of beach-goers pursuing a variety of activities from volleyball, to soaking up the rays, to just watching the crowd go by. It has convenient metered parking right next to the bear. Duck ponds and sand chairs for wheelchair-bound beach-goers are special features that are available.
Directions: Near downtown Naples at the corner of Gulf Shore and Banyan Boulevards.
Activities: Swimming, beach walking, volleyball, picnicking.
Facilities: Restrooms with showers, picnic areas, concession stand, pavilions, playground, volleyball courts.
Dates: Open daily sunrise to sunset.
Fees: There is no admission charge. On-street metered parking.
For more information: Phone (941) 434-4698.
Naples Municipal Beach And Fishing Pier
[Fig. 19] This beach is a popular in-town place for swimming, sunbathing, walking, and jogging. The 1,000-foot-long pier, originally built in 1887, is a cherished landmark that attracts lots of different kinds of people.
Serious, and not-so-serious anglers come at all hours to fish for a variety of the area's gamefish. Seasonal varieties include Spanish mackerel, whiting, pompano, redfish, and even snook. Check with the folks at the concession stand (you'll have to buy bait anyway) about what's hot and what's not.
Others come to stroll the wooden decks and watch the water and flocks of brown pelicans that gather around the pier pilings and battle for discarded fish parts. There's always something going on. Pelicans battle for discarded fish, schools of baitfish swirl around the pilings, and of course every bent rod answers the question "What's biting?"
Directions: Gulf Shore Boulevard and 12th Avenue South, near downtown.
Activities: Fishing, swimming, walking, jogging.
Facilities: Bait shops, fish-cleaning tables, covered shelter at the end of the pier, snack bar, restrooms. Parking in nearby lots and at street meters. Handicapped parking is available at the pier's 12th Avenue entrance.
Dates: Open daily 24 hours; concessions open from early morning to early evening.
Fees: None.
For more information: Phone (941) 434-4696.
Vanderbilt Beach County Park
[Fig. 19] This strip of Gulf of Mexico beach between Clam Pass County Park and Delnor-Wiggins Pass State Recreation Area is a favorite destination for Naples area families. There is plenty of walking and stretching room, and a clear, gentle surf. A tropical hammock in the park offers opportunities to observe birds, small animals, and native vegetation. Shelling is good in early morning before too many people have passed.
Directions: Located on the west end of Vanderbilt Drive.
Activities: Swimming, sunning, beach games, bird and wildlife observation.
Facilities: Parking, bike racks, restrooms and showers, wheelchair accessibility. Restaurants are nearby.
Dates: Open sunrise to sunset.
Fees: There is a parking fee.
For more information: Collier County Parks and Recreation, 3300 Santa Barbara Boulevard, Naples, 34116. Phone (941) 353-0404.