Big Pine Key
[Fig. 7] Big Pine Key, 8 miles long and 2 miles wide, with about 6,000 acres, is second in size only to Key Largo. Pinelands cover much of the island, except for pockets of hardwood hammocks and a fringe of mangroves. The island is the center of a cluster of smaller keys that include Ramrod, Summerland, Big and Little Torch, No Name, and Newfound Harbor keys.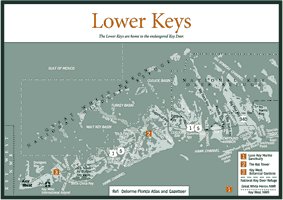 Big Pine has resorts, restaurants, and rental homes (some with boat access). Looe Key Marine Sanctuary, just 5 miles offshore, is the most poplar dive spot in the Lower Keys, and the Key Deer National Wildlife Refuge protects one of America's most unusual mammals, the tiny Key deer.
Approaching Big Pine Key, roadside signs ask you to slow down to help protect the Key deer. Many of these very endangered animals are hit by automobiles every year. The speed limit is 45 mph daytime and 35 mph at night on US 1, and usually 35 mph or lower on the back roads. You risk a stiff fine for speeding. The local police and the Florida Fish and Wildlife Conservation Commission go to great lengths to enforce the law and protect the deer.
When you first come onto Big Pine Key take a left at Long Beach Drive. On your left is the Big Pine Key Fishing Lodge and Campground. Inside the lodge on the counter, the proprietors have assembled an interesting scrapbook of photos and articles about Hurricane Georges, including some shots taken of the rising water during the storm.
Continuing on Long Beach Drive you'll pass a number of small salt ponds that often hold wading birds, including roseate spoonbills and a variety of herons. As you drive out Long Beach Road you'll notice hurricane damage to the vegetation. Many of the trees that weren't uprooted now lean in one direction.
Salt ponds, scattered throughout the Lower Keys and surrounded by mangroves, attract a variety of birds. Many salt ponds and even some freshwater ponds can be discovered by simply following the few side roads on the narrow island. Great blue herons, great white herons, and ducks in winter use these ponds. Both immature (white phase) and mature reddish egrets can also be spotted stalking small fish by raising their wings and casting a shadow on the water that makes it easier for them to see their prey.
Activities: Camping, hiking, scenic drives, boating, diving, snorkeling, fishing, cycling, kayaking, bird-watching.
For more information: Big Pine Key Fishing Lodge, PO Box 430513, Big Pine Key, FL 33043. Phone (305) 872-2351.
Big Pine Key Dining
Big Pine Coffee Shop
MM 30, Big Pine Key. Fishermen, divers, and other early birds get ready for the day with a substantial, no-frills breakfast, starting at 6 a.m. Many return during the day for fish plates, sandwiches, soups, and other good, basic fare. Open daily. Inexpensive. Phone (305) 872-2790.
China Garden
MM 30.2 Bayside, Big Pine Key. Located in the Big Pine Shopping Center, at Overseas Highway and Key Deer Boulevard. This restaurant serves okay Hunan, Szechuan, and Cantonese food and is located in the same shopping center as the U.S. Fish and Wildlife Visitor Center. Takeouts and free delivery from Bahia Honda to Summerland Key. Lunch and dinner daily. Inexpensive. Phone (305) 872-8861.
No Name Pub
North Watson Boulevard, 0.25 mile south of No Name Bridge. This excellent, very local restaurant and bar boasts that it's "A Nice Place, If You Can Find It." Locating it isn't really very difficult. On Big Pine, turn right at the traffic light on Watson Boulevard (you can't miss it, it's the only one) and bear to the right fork on Wilder Road. Look for the small frame building in a clump of trees on the left just before you cross the No Name Bridge from Big Pine Key.
If you're looking for real food in a real place, it's like finding a small treasure. Whether the pizza is "The Best in the Known Universe" is a subjective opinion, but it's mighty good, all the same. You can have your pizza the tried-and-true way, with pepperoni, Italian sausage, mushrooms, and other regular stuff, or go for the Keys shrimp style, Caribbean chicken, Hawaiian (with ham and pineapple), vegetarian, Mexican, and other more exotic versions. Domestic and imported beers and a few basic wines are served. The decor is also striking. A few decades back, patrons with a few brews under their belts decided to write their names on dollar bills and post them on the walls. In case they ever came in short of cash, they could pluck their bill off the wall and pay for lunch and beer. Nowadays, every inch of wall and ceiling is covered with autographed dollars, as well as English pounds, German marks, and even a few food stamps. Open daily late morning to late at night. Inexpensive. Phone (305) 872-9115.
Big Pine Key Lodging
Big Pine Key Resort Motel
MM 30.5 Bayside, Big Pine Key. This bayside motel has 32 rooms and apartments with kitchens, a restaurant, and a freshwater pool. A dive shop is across the highway. Inexpensive. Phone (305) 872-9090 or (888) 872-9191. Web site www.bigpinekeymotel.com
Dolphin Marina Resort
MM 28.5 Oceanside, Little Torch Key. Twelve basic motel rooms, some with kitchens. Close to Looe Key Marine Sanctuary. Inexpensive. Phone (305) 872-2685 or (800) 553-0308. Web site www.thefloridakeys.com/dolphinmarina
Looe Key Resort And Dive Center
MM 27.5 Oceanside, Ramrod Key. Twenty rooms, freshwater pool, dive shop, boats, dive/snorkel instruction. Inexpensive. Phone (305) 872-2215 or (800) 942-5397. Web site www.diveflakeys.com
Old Wooden Bridge Fishing Camp
MM 30.5 Bayside, Big Pine Key. Thirteen simple units with kitchen facilities, bait shop, and private fishing bridge. Boat dockage available for lodgers. Pets accepted. Inexpensive. Phone (305) 872-2241.
Parmer's Place
MM 28.5 Bayside, Little Torch Key. Forty rooms, cottages, and apartments, kitchen facilities, free continental breakfast, marina, freshwater pool. Inexpensive to moderate. Phone (305) 872-2157. Fax (305) 872-2014. Web site
www.parmersplace.com
Era Lower Keys Realty
MM 30, Big Pine Key. Rental oceanfront homes. Monthly rates available. Inexpensive to expensive. Phone (305) 872-2258 or (800) 859-7642. Fax (305) 872-2438. Web site www.eralowerkeysrealty.com