Longstreet Highroad Guide to the Tennessee Mountains

By Vernon and Cathy Summerlin
---
---
Davenport Gap to the Little Tennessee River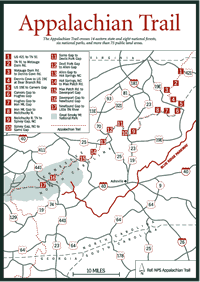 From Davenport Gap to the Little Tennessee River, most of the 72.1 miles of the AT lies within the boundaries of the Great Smoky Mountains National Park along the crest of the Great Smokies. The trails within the park are maintained primarily by the National Park Service (NPS). The AT within the park is managed jointly by the NPS and the Smoky Mountains Hiking Club, based in Knoxville, Tennessee.
The NPS requires permits for both camping and use of the shelters and approved campsites along the AT, and it is a violation of NPS regulations, punishable by fine, for overnight hikers to travel in the GSMNP without a (free) camping permit.
To prevent overcrowding at shelters, the NPS issues for a given night only as many camping permits as the capacity of the shelter. Between April 1 and June 15, three bunk spaces are reserved in the park at each AT shelter for through-hikers. Camping adjacent to the shelters, as well as at unauthorized places along the trail, is forbidden. Hikers planning trips of more than one day should write to or phone Great Smoky Mountains National Park, Gatlinburg, TN 37738, phone (423) 436-1200, for regulations on shelter use and camping.
Davenport Gap (TN 32/NC 284) to Newfound Gap (US 441), 31.3 Miles
[Fig. 50(16)] 0.0 From Davenport Gap (1,975 feet), follow graded trail west.
0.9 Davenport Gap Shelter, with built-in bunks that accommodate 12, is located 100 yards to right of trail.
1.9 Chestnut Branch Trail leads 2.0 miles to Big Creek Ranger Station and campground.
2.8 Reach lower Mt. Cammerer Trail, leading 7.8 miles to Cosby Campground on Tennessee side.
5.2 Graded side trail on right leads 0.6 mile to Mt. Cammerer tower.
6.7 Cross crest of Rocky Face Mountain.
8.0 Cosby Knob Shelter is 150 feet to the left, with built-in bunks that accommodate 12. Spring nearby.
9.5 Reach Camel Gap (4,645 feet).
11.9 Reach Snake Den Ridge Trail, which joins AT from Tennessee side.
12.8 Reach Deer Creek Gap (6,020 feet). Fantastic views of Mt. Guyot, Luftee Knob, Balsam Corner, and Mt. Sterling can be seen from here.
13.6 Reach gap between Mt. Guyot and Old Black.
15.7 Come to trail junction. AT bears right. Left fork leads 100 yards to Tri-Corner Knob Shelter. Built-in bunks accommodate 12. Spring nearby.
18.2 Reach high point of Mt. Guyot (6,000 feet).
20.9 Reach Hughes Ridge Trail on left. This trail leads to Pecks Corner Shelter. Built-in bunks accommodate 12. Spring nearby.
25.5 Reach Porters Gap (5,500 feet) on state line.
27.1 Pass Dry Sluice Gap Trail. Via this trail and Grassy Branch Trail, it is 3.8 miles to Kephart Shelter, which accommodates 14. Creek water.
28.3 Reach Icewater Spring Shelter on left. This shelter is closed for overnight use except to long-distance hikers.
28.6 Boulevard Trail enters on right. On Boulevard Trail, it is 5.3 miles to LeConte Lodge and Shelter. Accommodations are available at lodge from late March to early November. There is a fee, and reservations are recommended. Phone (423) 429-5704. Shelter accommodates 12.
31.3 Reach US 441 at Newfound Gap parking area.
Newfound Gap (US 441) to Little Tennessee River (Fontana Dam), 39.2 Miles
[Fig. 50(17)] 0.0 From junction of Newfound Gap (5,045 feet) and trail, cross parking area to its western end and descend through opening in guard wall.
1.2 Reach crest of Mt. Mingus ridge. Follow crest and bear left.
1.7 Reach Indian Gap. Enter woods on western slope.
4.5 Take left fork. Sugarland Mountain Trail to right leads to Mt. Collins Shelter. Built-in bunks accommodate 12. Spring nearby.
5.0 Reach summit of Mt. Collins (6,188 feet).
6.7 Reach summit of Mt. Love (6,446 feet).
7.9 Reach Clingmans Dome (6,643 feet), highest point on the AT.
8.4 Ascend to summit of Mt. Buckley (6,582 feet).
10.8 Reach Double Springs Gap (5,507 feet) and Double Springs Shelter. Built-in bunks accommodate 12. Best spring is 15 yards from crest on North Carolina slope.
12.5 At edge of woods, trail to right leads 100 yards to spring. Just beyond this trail, pass Silers Bald Shelter. Built-in bunks accommodate 12.
16.0 Cross Cold Spring Knob (5,240 feet).
18.0 Pass Derrick Knob Shelter on right. Built-in bunks accommodate 12. Spring nearby.
19.9 Enter Starkey Gap (4,500 feet).
22.5 Reach summit of Thunderhead Mountain (5,527 feet). Views from Thunderhead are outstanding.
23.1 Cross Rocky Top (5,441 feet).
25.4 Reach Little Bald.
26.8 Reach eastern end of Russell Field and Russell Field Shelter. Built-in bunks accommodate 12. Spring is 150 yards down trail toward Cades Cove.
29.4 At Gant Lot, pass Mollies Ridge Shelter. Built-in bunks accommodate 12. Spring nearby.
31.7 Reach summit of Doe Knob (4,520 feet). Trail leaves crest of Great Smokies and turns south along spur ridge.
34.0 Reach Birch Springs Gap (3,834 feet). Birch Spring Shelter is 100 yards to right down slope. Built-in bunks accommodate 12. Spring nearby.
36.2 Come onto ridge crest. To left, old road leads 0.1 mile to firewarden's cabin and fire tower on crest of Shuckstack Mountain (4,020 feet).
38.6 Reach hard-surfaced road. Turn right and almost immediately reach intersection with dirt road (abandoned NC 288). Follow hard-surfaced road 0.6 mile along lakeshore to northern end of Fontana Dam and end of section.
39.2 Hard-surfaced road leads downstream 0.2 mile to overlook, which has spectacular view of Fontana Dam and powerhouse. Trail crosses dam. Continue on road past visitor center (showers and toilets) to reach Fontana Dam Shelter on left at top of hill.
---
Published (print): 1999, Published (Web): January 2003, ISBN: 1-56352-475-9